CTS Announced as Official Coaching & Sports Science Partner of LUX Cycling Team
January 11, 2022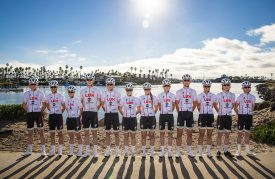 (January 11, 2022 – Colorado Springs, CO) /ENDURANCE SPORTSWIRE/ – The LUX Cycling Team today announced that CTS, the leader in endurance coaching, has signed on as the Official Coaching & Sports Science Partner for the team. LUX Cycling is an elite under-19 development team aimed to educate and empower the top junior riders in the United States to succeed at the highest levels of competitive cycling and in life. Leveraging their 22-year history of developing emerging elite athletes to World Championship, Olympic, and Paralympic medalists, CTS will provide coaching services for individual riders and collaborate with team staff to provide sports science-backed guidance.
Managed by US Bicycling Hall of Fame member Roy Knickman, the LUX Cycling Team is dedicated to a holistic approach to rider development, providing resources on and off the bike that empower success in competition and in life. With an all-junior men's team and a women's U23 squad, the team's structure, connections, and record of success create opportunities for young athletes to gain valuable international racing experience at some of the world's top junior and U23 competitions.
Roy and CTS Founder, Chris Carmichael, have a long history as teammates on the iconic 7-Eleven Pro Cycling Team, as well as colleagues at USA Cycling in the 1990s while Carmichael was the National Coaching Director and Knickman coached the US junior national team. Carmichael and Knickman are looking forward to teaming up again, this time with CTS Coaches working directly with LUX Cycling Team riders and staff.
"LUX is one of the few cycling development programs in the US that prepares riders for major international competitions, and that stems directly from the structure Roy has put in place and the network and reputation he created throughout his career," commented Carmichael. "We are eager to maximize the team's potential by providing LUX Cycling athletes and staff with proven coaching resources and sports science guidance from CTS Coaches."
LUX Cycling Team riders will have the option to work directly with a CTS Coach, and CTS Coach Jim Lehman will be one of the team's director sportifs. CTS will also consult with team staff on sports performance, nutrition, and recovery strategies.
"For more than 20 years, Chris and CTS have developed the top endurance coaches across multiple sports, and I am excited LUX Cycling Team riders will have access to the knowledge and experience of the CTS Coaching Staff," explained Knickman. "Working directly with professional CTS Coaches will help our riders achieve their best, on and off the bike.
About CTS
A pioneering company in the endurance coaching industry CTS has improved the performance of more than 20,000 athletes since 2000. Founded by US Olympic Committee Hall of Fame coach and author Chris Carmichael, and home to more than 50 professional coaches, CTS seeks to change lives and ultimately the world, through the power of movement, healthy habits, knowledge, and inspiration. The company provides personal coaching, training camps, and Endurance Bucket List experiences to athletes of all ability levels. For more information, visit www.trainright.com.
About LUX Cycling Development Team
The LUX Cycling Development Team has an 8-year history of supporting the best young men and women in the sport of cycling with goals of helping them advance up the development pipeline toward their professional and Olympic dreams. For more information, visit http://luxcycling.com.
CTS Media Contact: Jim Rutberg, jrutberg@trainright.com, 719-360-2672