Correa and Melo win GFNY Bento Gonçalves
October 19, 2022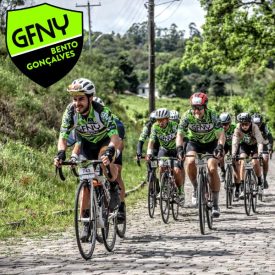 GFNY received warm welcome at return to Brazil
New York City, October 19, 2022 /ENDURANCE SPORTSWIRE/ – Bento Gonçalves, located in the heart of Brazil's Sierra Gaúcha, hosted the first edition of GFNY Bento Gonçalves 2022 this past Sunday. The racecourse was 138.6 km long with 2957m of climbing.
Pro cyclist Alex Melo (Maxel Cycling) took the win in 4:04:49. Cristian Lazzari (Specialized) and Walter Souza (Cumbre Treinamento Total) rounded out the all Brazil podium.
"The organization of the race was perfect, impeccable," said Melo after the race. "I'm happy that Brazilian cycling is getting back to a great moment, because we don't have so many races of this level in the country. The final mountain range, with a 12km climb, was certainly the most challenging aspect of the route."
In the female race, local Erika Correa took the win in 04:55:30, nine minutes ahead of Camilla Muller and Tamires Radatz (all Brazil).
"I particularly appreciated the feeding on the fly without having to stop – and of course the incredible and super well organized route," said Correa. "I'll race the next edition of GFNY Bento Gonçalves, because the city is wonderful and the route is fantastic. I felt like riding in Europe because of the beautiful landscapes and towns."
Next up on the GFNY calendar is GFNY Marathon Florida Sebring this Saturday October 22 and GFNY Florida Sebring cycling race on Sunday October 23, 2022.
About GFNY Global Endurance Sports Series
GFNY Global Endurance Sports Series is a sports event company with three decades of experience in racing, planning and organising events. The global endurance sports brand hosts multiple events throughout the year around the world on five continents.
Working with partners around the world to deliver a first-class experience, GFNY Global Endurance Sports Series puts their athletes first.
Cycling
30 plus events around the world. View the latest calendar here
Riders get to BE A PRO FOR A DAY ® by competing against others, themselves and the clock in a personal endurance challenge.
Top 10% (20% at regional championships) of finishers in each age group qualify for the Racer Corral at every GFNY World event.
GFNY World Championship NYC
The 11th annual GFNY World Championship New York will be held on May 21, 2023. The race features the world's most international peloton with riders from over 90 countries. Athletes take on a challenging 100-mile route from NYC to Bear Mountain to Fort Lee to compete against each other, the clock and themselves in a personal endurance challenge.
The official GFNY website is: www.gfny.com.
Further Material for Media Use
Official GFNY Bento Gonçalves video: here
GFNY Press Images: here
GFNY Results: here
GFNY World calendar graphic: here
Previous GFNY press releases: here
Media Contact
Gran Fondo New York Inc.
Uli Fluhme, uli@gfny.com
Caroline Lindsay, caroline@gfny.com