Competitors Battle Early Rain and Mud to Break Course Records at 8-Hour Dream Endurance Race
July 24, 2023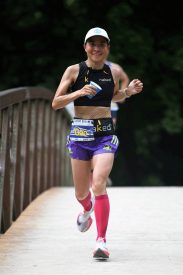 Largest Central Indiana ultra brings in runners from 14 states for ninth annual sold-out event
CARMEL, Ind. (July 24, 2023) /ENDURANCE SPORTSWIRE/ – The ninth annual 8-Hour Dream Endurance Race started with rain sprinkles but ended with sunshine and new course records on Saturday, July 15 in Indianapolis. The unique ultra distance event, created and managed by CRRG Events, is the largest endurance running event in Central Indiana and draws participants from 14 states. For the fourth consecutive year, the SOLO division hit capacity for a sold-out event.
Bibo Gao, age 45 of Buffalo Grove, Ill., broke the course record with 53.58 miles to win the overall 8-Hour Dream SOLO race. She also now holds the age group course record for the female master division (ages 40-49). Lauren Manuel, age 40 of Indianapolis, ran 46.16 miles for second place in the female SOLO division and added to her streak of nine straight podium finishes at the event. Daniel Stubbs, age 33 of Indianapolis, won the SOLO male race in his debut ultra distance event with 52.38 miles. Second place male finisher David Eckardt, age 53 of Evansville, Ind., ran 50.69 miles to break the age group course record for the grand master division (ages 50-59).
Nearly 40 groups entered the Team category, consisting of three divisions (female, male and coed). Fishers Running Club returned to win the RC Cup, a special coed team division for nonprofit running club, for a third year in a row with 74.27 miles and set a new course record for the RC Cup division.
Results for the event include:
8-Hour Dream Endurance Race – SOLO female
First: Bibo Gao, 53.58 miles (overall SOLO winner; overall course record; female master course record)
Second: Lauren Manuel, 46.16 miles
Third: Angela Kumar, 44.96 miles
8-Hour Dream Endurance Race – SOLO male
First: Daniel Stubbs, 52.38 miles
Second: David Eckardt, 50.69 miles (male grand master course record)
Third: Michael Braun, 49.93 miles
8-Hour Dream Endurance Race – Teams
3-4 Female: Indecisive Quads, 48.51 miles
3-4 Male: Chasing Gabby CRC, 57.57 miles
3-4 Coed: 3+1, 59.7 miles
5-6 Female: CRC Chicks with Kicks, 53.04 miles
5-6 Male: 8 Hours Is Not Enough Time, 81.42 miles
5-6 Coed: Washed Up Dawgs, 65.26 miles
RC Cup: Fishers Running Club, 74.27 miles (RC Cup course record)
Full individual results are available at 8HourDream.com.
The race gives participants two course options through the grounds of Butler University, starting and ending in the shadows of historic Hinkle Fieldhouse. Both short and long courses include Indianapolis' popular Central Canal Towpath and a trip up Bulldog's Revenge hill to the Bell Tower. The results for SOLO and Team categories are scored based on the total distance covered during the eight-hour time frame.
"No matter the conditions—rain or shine—it's hard to keep from smiling the entire eight hours of this event," said Todd Oliver, race director and president of CRRG Events. "When we introduced this event, we had no idea how competitive it would become. Between course records falling and the rivalries between running club teams, runners are starting to mark this day on their calendar as a goal race. We're looking forward to additional surprises to celebrate our 10th year in 2024 and making the 8-Hour Dream one to remember!"
The 10th annual 8-Hour Endurance Dream is scheduled for Saturday, July 13, 2024. Registration and more information will be available at 8HourDream.com.
###
About CRRG Events:
CRRG Events is an event management and production company with more than 20 years of producing successful running events. Based in Carmel, Indiana, CRRG Events has staged and managed events across 11 states ranging from a 1-mile football halftime race to ultramarathons. For more information, please visit CarmelRoadRacingGroup.com.
Contact: Kim Jackson
Event photos are available for download here.