Community BIKE JAM Kicks Off Maryland Cycling Classic Weekend
August 25, 2022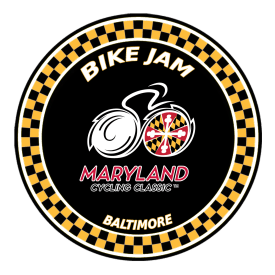 Free Event will take place at Patterson Park on September 1 and feature Olympic Medalists
BALTIMORE, Md. /ENDURANCE SPORTSWIRE/ –  The Maryland Cycling Classic, supported by UnitedHealthcare, kicks off its full weekend of events with a community enrichment day on Thursday, September 1, 2022, highlighted by a City of Baltimore Community Bike Jam at Patterson Park near the Pulaski Monument, from 4:30 p.m. to 7 p.m. ET, featuring Olympic medalists and National Champions.
The inaugural Bike Jam at Patterson Park includes a series of participatory stations, including a one-mile loop "Slow Ride", presented by Bank of America. Each ride will be led by ambassadors, which will include Olympic medalists Mari Holden and Nelson Vails as well as Fred Rodriguez, a four-time National Champion, Bobby Julich, podium finisher at the Tour de France, and Adrien Niyonshuti, the first black African Olympian in the sport of cycling and the star of the award-winning documentary Rising from Ashes.
Between 5 – 5:30 p.m., Mayor Brandon M. Scott and several representatives from the Maryland Cycling Classic are scheduled to speak and offer an official city proclamation for the Maryland Cycling Classic's community enrichment day.
"It's always an incredible experience for our young people and the community as a whole when professional athletes can engage with our residents at the individual level while also creating an inclusive space for activities for all age groups, centered around bicycle safety," said Mayor Scott. "Bike Jam will be another great event for Baltimore that brings residents out to enjoy the festivities and grows interest in the sport across the region."
The Bike Jam event will also feature a bike and helmet safety clinic, presented by BGE, a bike obstacle course, and an autograph alley with the Olympians and National Champions, plus several vendors. Children can be fitted for a bike helmet on site with up 150 free helmets compliments of Specialized available for giveaway to the local community.
Earlier in the day, the Maryland Cycling Classic is partnering with UnitedHealthcare, for a school visit to James McHenry Elementary/Middle School. Kyle Murphy, the current U.S. Professional National Champion who will be racing in the inaugural Maryland Cycling Classic world-class race on Sunday, September 4, along with volunteers from UnitedHealthcare, will spend the afternoon fitting helmets, gifting bikes and talking about bike safety with the students. A UnitedHealthcare grant to the Dreambuilders Foundation is funding the initiative. Maryland Cycling Classic has also designed bike and helmet safety curriculum that will be available to students throughout the Baltimore City and Baltimore County online.
"A big part of the Maryland Cycling Classic is about community engagement, especially around health and wellness, emphasizing the bike," said Terry Hasseltine, President of the Sport and Entertainment Corporation of Maryland, the non-profit organization behind the Maryland Cycling Classic and the Bike Jam. "The Community Bike Jam is a significant way to kick off the weekend of events around Baltimore and Baltimore County, which will culminate with the world-class bike race on Sunday finishing between 4 and 6 p.m. in the Inner Harbor District."
In addition to the Community Bike Jam next Thursday, a free-to-the-public Team Introduction party will showcase the 16 international teams competing in Sunday's race on Friday, September 2, from 6 to 9 p.m. ET in the Harbor East District on Lancaster Streets between Exeter and S. Central Ave.
For more information on the weekend of events, please visit www.marylandcyclingclassic.us. For more details on the Bike Jam, visit https://www.marylandcyclingclassic.us/bike-jam/.
# # #
Media Contact:
Katrina Younce, KOM Sports
1.310.995.3619 | katrina@komsports.com
Host Committee Contact:
Graham Whaples, Sport and Entertainment Corp. of Maryland
1.410.223.4158 | graham@sportcorpmaryland.us
About Maryland Cycling Classic supported by UnitedHealthcare
The inaugural Maryland Cycling Classic supported by UnitedHealthcare, America's top one-day international pro cycling race sanctioned by the Union Cycliste Internationale (UCI) and USA Cycling, is taking place September 4, 2022 in Baltimore, Md. The race will feature the world's best cyclists including Tour de France participants, National Champions, World Champions and Olympians from over 20 countries. The Maryland Cycling Classic supported by UnitedHealthcare is part of a three-day weekend community celebration of health and wellness featuring participatory events, an interactive festival, local foods and drinks, along with other fun family-friendly activities. The race is endorsed by Maryland and Baltimore Civic Leaders, while owned and operated by Sport and Entertainment Corporation of Maryland. The event is managed and marketed by industry leaders Medalist Sports and KOM Sports Marketing. Learn more about the Maryland Cycling Classic supported by UnitedHealthcare at www.marylandcyclingclassic.us.