Columbia Threadneedle Investments Boston Triathlon Signs Partnership with ZONE3 USA for 2022
May 24, 2022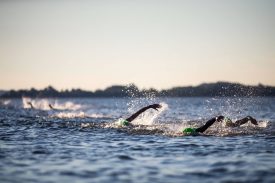 The Global Specialist Sports Brand Will Support This Year's Racers With Free Gifts and Product Demos During the Event
BOSTON, MA – May 24, 2022/ENDURANCE SPORTSWIRE/ – ethos, the mass participation event organization that oversees the Columbia Threadneedle Investments Boston Triathlon, has renewed its partnership with ZONE3 USA. The company is once again the Official Swim Partner of the 2022 Columbia Threadneedle Investments Boston Triathlon. The annual event will return to South Boston on July 23-24, 2022 and registration is open at www.BostonTri.com.
"We are excited to partner with ZONE3 again for the 2022 Columbia Threadneedle Investments Boston Triathlon," said Michael O'Neil, president of the Boston Triathlon. "ZONE3 has shown their support for the sport of triathlon and we are thrilled that our participants will again benefit from this partnership."
ZONE3 USA is one of the most loved specialist sports brands, chosen by athletes worldwide. All 2022 Boston Triathlon participants will receive ZONE3's long-lasting, eco-friendly silicone swim caps as part of the partnership agreement. ZONE3 USA will also provide expertise to the event, sharing triathlon insight for blogs and social media, and are committed to working alongside Boston Triathlon to grow the sport.
"ZONE3 is proud to once again be a part of Boston's only triathlon and excited to support the amazing athletes who will take part in this fantastic event," said Lucy Baldwin, Head of Global Marketing, ZONE3 USA. "Our products are recognized for their quality and utility by athletes around the world and we know our support of the Boston Triathlon will help this year's participants excel."
The weekend-long Boston Triathlon is expected to bring more than 2,000 participants to the Boston waterfront for two days of races for kids, adults, relay teams, and Boston companies. Kids Day at the Boston Triathlon will be on Saturday, July 23, 2022, while Olympic and sprint distance competitions take place on Sunday, July 24, 2022. All events take place at the DCR's Carson Beach, a stunning venue on the South Boston waterfront. Columbia Threadneedle Investments, a leading global asset management group, is the title sponsor of the event.
Athletes can team up and raise funds for the Official Race Charity Partner, Boston Medical Center, the largest safety-net hospital in New England working to ensure all Bostonians have the resources they need to thrive. Triathlon participants who provide a donation at registration or choose to sign up as a fundraiser receive exclusive perks. All funds raised support BMC's innovative efforts to advance health equity and close outcome gaps linked to race and wealth. To learn more about participating in the Columbia Threadneedle Investments Boston Triathlon in support of Boston Medical Center, contact team.bmc@bmc.org.
About ethos:
e•thos |ˈēθäs| the characteristic spirit of a culture or community as manifested in its beliefs and aspirations. ethos is a mass participation event organization created to bring athletes together through challenging and unique sporting events. The organization produces the Columbia Threadneedle Investments Boston Triathlon, and the Lobsterman Triathlon.
About ZONE3:
At ZONE3 our mission is to be the most loved and chosen specialist sports brand around the world by creating product that embodies our passion and inspires athletes to achieve their personal goals. From first-timers to elite-level triathletes, the athlete has always been at the center of our design process, constantly striving for ways to help them succeed. At the very beginning, this was a personal motive as founder, James Lock, looked for ways he could gain an advantage over the opposition as an elite triathlete. This passion and motivation runs through every product in our range today, supporting athletes in all aspects of their racing, training, and lifestyle. In addition to reworking and adding new technologies and innovation to existing products, we have also added some exciting new, cutting-edge products to ensure we remain at the forefront of product development and innovation. www.zone3.us
# # #