City2Surf Brings The Party To The Streets Of Sydney
August 13, 2023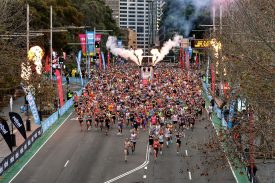 13 August 2023 /ENDURANCE SPORTSWIRE – The City2Surf set the streets of Sydney alive today as the world's largest fun run returned with over 70,000 participants starting this year's race.
From 7:40am runners made their way along the iconic 14km course from the CBD to Bondi Beach as a wave of colour, noise and energy.
The 53rd City2Surf was a momentous occasion for Sarah Foley, who alongside over 280 others set an unofficial world record for the largest ever gathering of a group of people dressed in a Wonder Woman costume.
"The record is just the icing on the cake to be honest, having an official record is actually a really cool thing. It came around from a really crazy idea and it's just obviously taken off into something much, much bigger and so I think if we can get this record formalised and over the line and that certificate, it will be really good," said Sarah.
Sarah is living with a brain tumour and is due to start her cancer treatment this Wednesday. She and her close friend Caroline Stevenson came up with the plan to break the record to honour strong women and everyday heroes.
"Today was absolutely amazing, so much colour. All my friends, people I haven't seen in a long time who travelled interstate, dear friends who have shared a lot of this journey with me and know who crazy I am and want to be part of it, were out there supporting me," she said.
"I've been quite out there about my journey and I'm very happy to share it because to be honest so much positive has come from it, just the people I've met, the goals I've set, the things I've done, I never thought I'd do in a million years. So just having the support, I'm just fronting into next week believing it will be fine, I'm very positive about it, it's just another journey. I've got an amazing amount of people around me."
The group also has partnered with Cure Brain Cancer to raise vital funds for the charity. They have raised over $17,000 so far, with Sarah's former employer set to match the final total tomorrow.
Over 400 charities were involved in this year's event, with $2.9 million already raised by City2Surf participants. Running for charity has become the beating heart of the event, with participants raising over $52 million for charities in need since 2008.
A core part of the ongoing success of the City2Surf is a dedicated group of legends who have taken part in every event since its inception in 1971. Laurie Coleman is one of those 18 legends remaining.
"This is City2Surf number 53 for me, this race went much better than I expected. It was a lovely day, a great day for running, the crowd were fantastic, and I hope to be back next year," said Laurie.
The tens of thousands of runners completing the City2Surf were in a celebratory mood as they made their way to Bondi Beach, but none more so than proud Matildas fan Kaitlin McCaffery who donned the green and gold jersey along the course.
"This is probably my seventh City2Surf, it was so good out there, vibes were high, it was really fun," she said. "Heartbreak Hill was tough, it's always tough but I always think to myself just get to the top and then it's downhill to Bondi.
"I'm absolutely pumped after last night, I went to bed with my heart racing, this is why I wore the jersey. I woke up this morning still pumped, so good. Now I'm off to the pub," she said.
Thousands of runners took to the streets in fancy dress, adding a huge splash of fun and colour to the event. One of those runners was Steve Johnston who was dressed in a superhero-esque costume in the form of 'Burpee Man'.
To the delight, and sometimes shock, of his fellow participants, Steve stopped every kilometre of the race to complete 30 burpees.
"I do burpees every race I do, every kilometre I stop and I do 30 burpees. It started out as a training thing just to try and make the runs a bit harder, mix up the runs, and now I do it every race I do. There's normal level of run crazy and I'm that next level, I'm a run idiot," said Steve.
"This is about my seventh City2Surf. It's a great community run, every kilometre I'm stopping and people are yelling at me 'good on you burpee man, go burpee man, good on you mate, or you're an idiot'. It's that community vibe that keeps you going because I'll be honest, by the time you hit 300 burpees your arms are pretty much shot but it's that community vibe. I don't want people to see me stop so I just keep going, everyone is just so embracing and that's why this event is so great, it's community. The number one thing about this race is community," he said.
The City2Surf will return next August for its 54th edition. For more information visit https://city2surf.com.au
Event vision and winner's interviews are available for download here: https://drive.google.com/file/d/1_KvibLPn953-0PL2RgVK07dfe4QITNti/view?usp=sharing
A VNR with event vision and winner's interviews is available here
###
For more information please contact:
Craig Heydon
craig.heydon@ironman.com
Public Relations & Media Director, The IRONMAN Group Oceania
Mob: 0402 318 918
Ruth Bowerman
ruth.bowerman@ironman.com
Media Executive, The IRONMAN Group Oceania
M: +64 21 209 6978
About The IRONMAN Group
The IRONMAN Group operates a global portfolio of events that includes the IRONMAN® Triathlon Series, the IRONMAN® 70.3® Triathlon Series, 5150™ Triathlon Series, the Rock 'n' Roll® Running Series, IRONKIDS®, World Triathlon Championship Series, premier running events including the Standard Chartered Singapore Marathon™ and City2Surf®, UTMB® World Series trail-running events including the Canyons Endurance Runs™ by UTMB®, Tarawera Ultra by UTMB® and Ultra-Trail Australia™ by UTMB®, Epic Series™ mountain bike races including the Absa Cape Epic®, road cycling events including Haute Route®, and other multisport races. The IRONMAN Group is the largest operator of mass participation sports in the world and provides more than a million participants annually the benefits of endurance sports through the company's vast offerings. Catering to the full athlete experience, the company portfolio also includes FulGaz® virtual cycling, the most realistic indoor riding experience connected fitness application aimed at preparing athletes for real-world events. Since the inception of the iconic IRONMAN® brand and its first event in 1978, athletes have proven that ANYTHING IS POSSIBLE® by crossing finish lines around the world. Beginning as a single race, The IRONMAN Group has grown to become a global sensation with hundreds of events across 55+ countries. The IRONMAN Group is owned by Advance, a private, family-owned business, and Orkila Capital, a growth equity firm focused on building great brands. For more information, visit www.ironman.com/about-ironman-group.
About Advance 
Advance is a private, family-held business that owns and invests in companies across media, entertainment, technology, communications, education and other promising growth sectors. Our mission is to build the value of our companies over the long-term by fostering growth and innovation. Advance's portfolio includes Condé Nast, Advance Local, Stage Entertainment, The IRONMAN Group, American City Business Journals, Leaders Group, Turnitin, and Pop. Together these operating companies employ more than 17,000 people in 29 countries. Advance is also among the largest shareholders in Charter Communications, Warner Bros. Discovery and Reddit. For more information visit www.advance.com.