Cigna Renews Title Sponsorship with Denver Colfax Marathon
November 17, 2022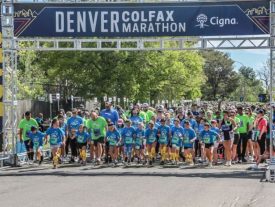 Girls on the Run of the Rockies Chapter to Get Race Registration Fees Covered Through Cigna
DENVER, CO /ENDURANCE SPORTSWIRE/ – The Denver Colfax Marathon announced today that Cigna is continuing its title sponsorship for the 2023 Denver Colfax Marathon. This renewed partnership comes with a greater emphasis on bolstering the health and wellbeing of the Denver community.
As part of its 2023 sponsorship, Cigna will pay the registration fee for 2,000 Girls on the Run of the Rockies participants who will race in the marathon next May. The Girls on the Run of the Rockies chapter is a nonprofit serving third to eighth grade girls all along the Front Range.
The Denver Colfax Marathon also has one of the largest Charity Partner Programs in the nation, with more than 200 nonprofits using the marathon to raise money and awareness each year. Nonprofits get to keep all the money they raise through the marathon platform, and the marathon also awards $100,000 to local nonprofits every year.
"Cigna is an incredible partner, and we are thrilled to have them continue as the presenting sponsor for our race," said Andrea Dowdy, CEO of the Denver Colfax Marathon. "The company's investment in our marathon has created a better experience for runners and our community."
"Our recommitment to the Denver Colfax Marathon is a phenomenal opportunity to advance whole-person care in our communities through the balance of healthy lifestyles and good emotional health," said Brett Winingham, the market leader for Cigna Mountain States. "We look forward to supporting the race – and uplifting these courageous girls as they take on one of their most rigorous physical challenges yet."
The Girls on the Run program is a physical activity-based youth development program designed to enhance girls' social, psychological and physical competencies. The group's mission is to inspire girls from a variety of backgrounds to be joyful, healthy and confident using an experienced-based curriculum that integrates movement.
Cigna first partnered with the Denver Colfax Marathon for the 2022 marathon weekend this past May. The company has over 70,000 colleagues around the world, and almost 2,000 here in Colorado, with its Mountain States region headquartered in Denver.
The 17th Denver Colfax Marathon weekend is scheduled for May 19-21, 2023, and is expected to attract more than 20,000 runners. Cigna will also sponsor the Cigna Health and Fitness Expo which takes place during the race weekend. The expo welcomes close to 50,000 guests over its three days.
About Denver Colfax Marathon
Denver Colfax Marathon is Denver's largest running event taking place annually on the third Sunday in May. Events include the full marathon, half-marathon, marathon relay and Urban 10 miler. Established by the cities of Aurora, Denver and Lakewood to encourage Coloradans to be healthier, the marathon has established itself as an iconic race for the Mile-High City. The event supports local charities and nonprofits by providing one of the country's biggest fund-raising platforms through its Charity Partners Program. Visit the Denver Colfax Marathon at www.runcolfax.org, facebook.com/runcolfaxdenver, Twitter and Instagram @runcolfax.
About Cigna
Cigna Corporation (NYSE: CI) is a global health service company dedicated to improving the health, well-being and peace of mind of those they serve. Cigna delivers choice, predictability, affordability, and access to quality care through integrated capabilities and connected, personalized solutions that advance whole person health. All products and services are provided exclusively by or through operating subsidiaries of Cigna Corporation, including Cigna Health and Life Insurance Company, Connecticut General Life Insurance Company, Evernorth companies or their affiliates, and Express Scripts companies or their affiliates. Such products and services include an integrated suite of health services, such as medical, dental, behavioral health, pharmacy, vision, supplemental benefits, and other related products. Cigna maintains sales capability in over 30 countries and jurisdictions, and has more than 190 million customer relationships throughout the world. To learn more about Cigna, including links to follow us on Facebook or Twitter, visit www.cigna.com.