Chris Froome Comes to Canada for Exclusive Dream to Cure Ride
August 31, 2023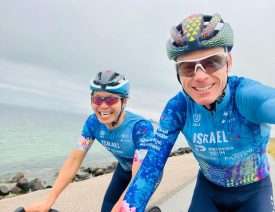 The four-time Tour de France winner is riding in BC to raise money for cancer research this September
/ENDURANCE SPORTSWIRE/ – It's the chance of a lifetime: The chance to ride with four-time Tour de France winner Chris Froome on the best roads that Port Moody, BC, has to offer, while helping find the cure for cancer that starts at the very first cell. That's what's on offer with the Dream to Cure Ride, which will take place on September 23, 2023. To call it an intimate ride is something of an understatement: With only 100 slots available, riders will have almost no choice but to spend at least part of their day pedaling alongside the legend.
The ride will start and finish at Rocky Point Park in Port Moody. Participants can choose between a 30km or 80km road cycling route, and both routes will be well-supported.
The Dream to Cure ride is raising money for very specific work in the cancer space: hyper early detection—from as early as the first cell. That's the work that Dr. Azra Raza, leading oncologist and international authority on pre-leukemia and acute leukemia, Director of the MDS Center at Columbia University, is focused on. She has raised more than $14.5 million dollars to develop an antibody to detect cancer in the first cancerous cell. Fundraising done through Dream to Cure will go directly towards advancing her work to identify and wipe out cancer in that initial cell (known as Stage -1) before it has a chance to spread.
"After hearing about the vision behind Dream to Cure, I knew I wanted to get involved," says Chris Froome. "It's exciting to be able to spread awareness about the work around early detection of cancer being done by Dr. Raza while also getting to ride some of the best roads in North America at the Dream to Cure event. I'm looking forward to experiencing the riding that Vancouver and Port Moody have to offer."
Dream to Cure is the brainchild of Kevin Ham, Canadian entrepreneur, medical doctor and philanthropist.whose e-commerce shipping company, Chit Chats is a sponsor of Froome's team, Israel-Premier Tech. After losing a friend and his mother to cancer at a young age, Dr. Ham became passionate about finding a cure. "I did my first charity cycling event as a non-cyclist back in 2008," he recalls. "In just three weeks, I had raised nearly $20,000 for a friend who had been diagnosed with terminal cancer. It felt like a positive step that I could take, and it made me see the importance of peer to peer fundraising for cancer research. Since then, I along with my co-workers have ridden across Canada in various cycling fundraiser events and have raised around $100,000 for cancer care and research. Now we want to have a hand at helping to shine a light on and funding what we believe is ground-breaking work in the eradication of cancer."
"The energy that comes from the bike is profound and inspiring, much like the tireless work of scientists and researchers like Dr. Raza," he adds. "Early detection of cancer is such an important element in curing cancer, and the work being done by Dr. Raza has the potential to be game-changing."
For the inaugural event, Dr. Ham has decided to limit the ride to only 100 participants. This isn't accidental: "We chose to keep this first event small, with only 100 riders, in order to ensure that all participants are able to connect with both Chris Froome and Dr. Raza, to be inspired by their stories and hear them speak about what their journeys have been like as they've both committed themselves fully to their dreams," Dr. Ham noted.
The registration fee is $250 until August 15th, $300 until August 31st, $350 until September 22nd. All participants must also raise $1,000 CAD. There will be giveaways and prizes from Factor (rumors of a bike!) and other sponsors plus, the top fundraisers will also have an opportunity to join Chris Froome, Dr. Raza and Dr. Ham for a semi-private meal to keep the conversation going.
Learn more: https://dreamtocure.com/