Chicago Bike Industry Leaders Team Up With The Newberry Library to Benefit Blackstone Bicycle Works
September 22, 2020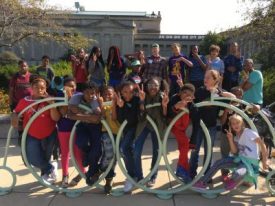 CHICAGO, IL (Sept. 22, 2020) — PeopleForBikes Ride Spot, the Newberry Library and the CRR1919 Commemoration Project invite Chicagoland residents to participate in the Chicago Race Riot of 1919 Route, a historical biking tour to remember a monumental moment in Chicago history and raise money for Blackstone Bicycle Works.
Thanks to generous contributions from local sponsors SRAM and ABUS, if 300 riders complete the route by Oct. 31, $7500 will be donated to help support Blackstone Bicycle Works, an educational youth program and community bike shop on Chicago's South Side with a mission to provide resources and opportunities to youth from some of Chicago's most underserved communities through bicycle education and mentorship. A portion of the money will also help fund CRR1919's mission to install public art around the city commemorating the event.
"SRAM is excited about this campaign," said Mulubwa Munkanta, manager of financial planning and analysis at SRAM. "This event provides a unique opportunity to learn about a key part of Chicago history while also supporting Blackstone Bicycle Works, a great local partner."
While it was the most violent in Illinois history, the Chicago Race Riot of 1919 still remains widely unknown to many. To honor the centennial of the riot in 2019, the Newberry Library and the Chicago Race Riot of 1919 Commemoration Project created a route that took riders through the Bronzeville and Bridgeport neighborhoods on Chicago's South Side, stopping at key historical locations surrounding the riot. They partnered with Blackstone Bicycle Works to host a bike ride where speakers shared stories at each stop along the route.
"I am thrilled to continue working with Blackstone Bicycle Works and the CRR1919 project, and now partner with Ride Spot, to commemorate Chicago's 1919 race riot," says Newberry Library's Public Programs Manager Elizabeth Cummings. "I hope that this campaign encourages many more Chicagoans to learn about our collective history, and that they use their pedal power to benefit Blackstone."
This year, riders can follow that same route thanks to Ride Spot. By downloading the mobile app and joining the Chicago Race Riot of 1919 Route challenge, riders will be guided by turn-by-turn directions to each stop along the route. They can also download or stream an audio tour or purchase a limited edition 1919 CRR Route Guidebook to complete their educational journey with short history lessons about each stop on the ride.
"It's been an honor and pleasure to be a part of this project," said Ride Spot's Tobie DePauw. "It really encapsulates what we're all about here at Ride Spot. We have suppliers, retailers and nonprofits working together to do some good by providing a meaningful and multi-faceted riding experience. It's a really engaging concept for riders to easily navigate the route via the app or by using the guidebook while listening and learning from expert voices on the audio tour."
To learn more about the 1919 Chicago Race Riot and how to take part in the historical tour benefitting a great cause, visit crr1919ride.com.
More About PeopleForBikes Ride Spot
Ride Spot is a mobile app and online platform developed by PeopleForBikes, the nation's leading bicycle advocacy organization, designed to break down the barriers to bike riding and help make every bike ride safer, more fun and more accessible. Learn more at RideSpot.org.
More About the CRR1919 Commemoration Project
The Chicago Race Riot of 1919 Commemoration Project (CRR19) exists to commemorate the worst incident of racial violence in the city's history. Formally launched on the 100th anniversary of the 1919 riot, we believe that now is the moment for Chicago to confront its bloodiest chapter and heal the wounds that time alone has not. We must remember America's troubled past of racial violence and white supremacy if we wish to improve the future. Learn more at ChicagoRaceRiot.org.
More About the Newberry Library
Since its founding in 1887, the Newberry has remained dedicated to deepening our collective understanding of ourselves and the world around us. As individuals engage with Newberry collections and staff, they discover stories that bridge the past and present and illuminate the human condition. The Newberry's community of discovery is driven by a shared commitment to promoting research, inspiring learning, and using inquiry across the humanities as a tool to engage critically in a vibrant democratic society. Learn more at Newberry.org.