Charity Chaser Announced for Ascension Seton Austin Marathon
November 29, 2022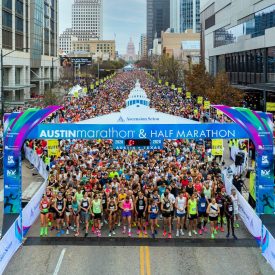 Devon Lévesque will chase down runners in the official philanthropic program
AUSTIN, Texas, November 29, 2022 /ENDURANCE SPORTSWIRE/ – The Ascension Seton Austin Marathon, Half Marathon and 5k, announces Devon Lévesque as the Austin Marathon Gives Charity Chaser for the 2023 event. Levesque's involvement will highlight Austin Marathon's continued support of the Austin community, elevate Austin Marathon Gives profile, and help surpass the 2023 one million dollar fundraising goal. The Charity Chaser is part of Austin Marathon Gives, the philanthropic arm of the Austin Marathon which has helped to raise over $5 million for local charities since its inception in 2016.
"I'm honored to be the Charity Chaser and help Austin Marathon Gives surpass its $1 million goal," said Lévesque. "Training for the Austin Marathon has begun and I'm ready to amplify the positive effects Austin Marathon Gives and its official charities have on our community. Everyone has a story, all you have to do is ask."
Devon Lévesque is a 30-year-old serial entrepreneur, philanthropist, and fitness enthusiast. He is the founder of two companies; The DML Group, which invests in growth stage health and wellness companies and Creator & Company, a growth marketing firm helping selected brands build community. Aside from his business ventures, Devon lists mental and physical health as a top priority. He bear crawled a marathon in 2020 in 20 hours and 48 minutes to not only set a world record but raise capital for suicide awareness and mental health. Aside from training as the Charity Chaser, Devon is also in the middle of his other purpose driven challenge by summiting the highest point on every continent in the world
"We're excited to have Devon as the Austin Marathon Charity Chaser," said Jack Murray, co-owner of High Five Events. "The positive impact he'll have means Austin Marathon Gives will continue to raise its profile to better serve Central Texas nonprofits and the selected charities can raise more funds to better serve our community."
Devon is in good company in this role; former Charity Chasers include Lance Armstrong; Sportscaster, Ricky Doyle; Meteorologist, Chikage Windler. The charity chaser starts the event after the final starter crosses the start line of the Austin Marathon & Half Marathon, at approximately 7:25 AM. They will then try to catch as many marathon runners as possible. There will be approximately 4,000 marathon runners. For the 2023 edition, Devon is expected to catch all but about 50 of the marathon runners if he hits his goal of 3:00 hours.
The Austin Marathon is recruiting companies and individuals to pledge a dollar amount for each runner passed. So far Tito's Handmade Vodka & The Austin Marathon have committed to donate $2 per runner passed for Dell Children's Hospital, the official nonprofit for the 2023 Charity Chaser program.
In 2022, Austin Marathon Gives, presented by the Moody Foundation, contributed more than $670,000 to the Central Texas community. The Moody Foundation added to the efforts for the seventh year in a row and matched contributions made, up to $10,000, for each organization. In addition to the funds and awareness raised, last year's Austin Marathon Gives Official Charities recruited more than 1200 runners and provided more than 1300 volunteers. Registration and volunteer opportunities are currently available and can be found on the Austin Marathon website.
About the Ascension Seton Austin Marathon®: The Austin Marathon® will celebrate its 31st year running in Austin on Feb. 19, 2023. Austin's flagship running event annually attracts runners from all 50 states and 30+ countries around the world. With start and finish locations just a few blocks apart, and within walking distance of many downtown hotels and restaurants, the Austin Marathon is the perfect running weekend destination.
###