Charboneau and Corcoran Victorious at USATF Marathon Trail Running Championships
May 8, 2023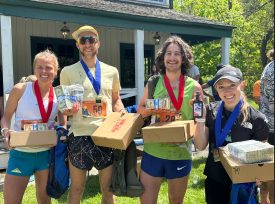 Four athletes earn automatic spots on the USATF Trail Team
/ENDURANCE SPORTSWIRE/ – At the USATF Marathon Trail Running Championships hosted by Breakneck Point in Beacon, NY, on Saturday, May 6, Brittany Charboneau, 34, Denver, CO, and Garrett Corcoran, 27, Salt Lake City, UT, battled a stellar field to win top honors in the race. Not only did the pair win championship titles, they earned spots on the USATF Trail Running Team slated to compete June 8, in Innsbruck, Austria at the World Mountain and Trail Running Championships.
Also punching tickets to Austria were second place finishers Bailey Kowalczyk, 27, Nederland, CO, for the women and Jackson Brill, 24, Bend, OR, for the men. Just under three minutes separated the top two women with Charboneau posting a time of 4:46:43 to Kowalczyk's time of 4:49:21. Corcoran was the only runner to go under four hours timed in 3:55:52. Brill finished in 4:00:16. Although these times may not seem particularly impressive for a marathon, this course was not a pancake-flat road race.
In fact, the route boasted a mind-blowing 8000 feet of elevation gain over the 42-kilometer distance with five significant climbs and descents on very technical trails. Brian Vanderheiden, is his race preview wrote, "The Breakneck Point Trail Runs is one of the toughest, gnarliest, most beautiful races you will ever run. It has a little bit of everything:  super technical trails, twisting/turning single track, long climbs up to beautiful vista points, rocky jeep road trails, some fire roads for good measure and one iconic climb at the start of mile 8 that will test your will, your fear, and your resilience."
Fortunately the weather cooperated and was ideal on race day with intermittent sunshine, no wind, and temperatures in the mid-40s for the 6:30 a.m. start time. Rain during the week may have elevated the creeks a bit, but only left a few errant puddles and muddy spots on course for the nearly 600 competitors to navigate (just under half of whom would run the partner half marathon).
From start to finish, there were lead changes after the half marathon mark for both the men's and women's race. Kowalczyk was in the lead for the women at the halfway point, while defending champion Max King, 43, Bend, OR, led for the men. Passed by Corcoran, Brill, and eventual third-place finisher Lars Arneson, 33, Anchorage, AK, King reflected after the race saying that he may have taken out the race too hard, but he still secured a fourth-place finish timed in 4:03:25.
The women's trail marathon race was also tight at the front with the top-four women finishing within five minute of each other. Following Charboneau and Kowalczyk was Klaire Rhodes, 24, Anchorage, AK, in 4:50:24 for third place and in fourth, Kristina Mascarenas, 34, Colorado Springs, CO, in a time of 5:01:26.
In addition to trail marathon championship medals, the top three men and women each earned a pay day of $1000 for first, $500 for second, and $250 for third. Masters money was also three deep with $250 for first, $150 for second and $100 for third.
Masters' age group winners (at press time) were King 40-44, Ben Nephew and Kehr Davis 45-49, Edward Rudolph and Helen Huang 50-54, David Loutzenheiser and Carole Dudukovich 55-59, Ted Cowles 60-69, Len Hall 65-69.
Race Director Ian Golden provided his thoughts on the event, "Sunshine, foliage popping, a tough course with incredible athletes from across North America who all shared a day on beautiful rugged trails. Those in the top 10s included runners from Vermont, Maine, Alaska, Colorado, California, Utah, Oregon, Arizona, and Pennsylvania. Literal dreams were fulfilled in first-time team selections, and for others, goals were met crossing the finish line. This over a course that the top finishers will know provided them with the capability to perform well in a world-class field anywhere. It was a good day."
If you missed the Livestream on race day, visit this link for a replay. Complete USATF Trail Marathon results will be posted here and here. For information on USATF Team Selection click here.
####