Champion U.S. Vibram Athlete Summits Denali
June 30, 2023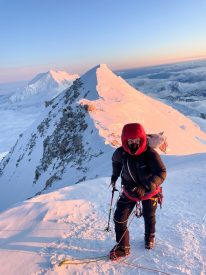 Meredith Edwards spent 29 days on Denali pushing for the women's FKT and summited this month
"Her Denali Speed Project" focused on empowering women in mountain sports
/ENDURANCE SPORTSWIRE/ – Meredith Edwards, a US mountain endurance athlete and member of Team Vibram spent just over a month on Denali pushing for the women's FKT and summited this month. Bad weather on many days hampered her FKT but always tenacious, Meredith is determined to go back and try the FKT again.
With a summit elevation of 20,310 feet above sea level, and the tallest mountain in the world from base-to-peak on land, measuring 18,000 feet, the current women's Denali FKT stands at 21 hours, 6 minutes by Katie Bono, 2017. The men's FKT was set in 2019 by Karl Egloff at 11 hours and 29 minutes and was beat this year by Jack Kuenzle at 10 hours and 14 minutes.
"I am so pleased to say that my team and I summited Denali on June 14th at 7:30pm," said Meredith. "Through the month-long expedition, I'm so proud of the decisions we made and how well we navigated a tough season. It had always been our goal to lead with grace and humility on this mountain, because after all, the mountain decides. I was ready for this with my team, and summiting is such an achievement in itself. Now I've tried the FKT once, I'll definitely be back."
Meredith explains her drive for the Denali FKT in these short videos:
Fabrizio Gamberini, Global Chief Brand Officer and President, Vibram: "Vibram is truly honored to stand by Meredith's side as she embodies the spirit of a Team Vibram athlete. Despite not achieving the Fastest Known Time (FKT), her unwavering determination, remarkable teamwork, and profound respect for the mountain are truly commendable. Meredith's inspirational journey instills in all of us the unwavering drive to push our limits while humbly confronting the forces of nature."
Vibram is the world leader in the development and manufacturing of high-performance rubber soles for outdoor and leisure activities, workwear, fashion, orthopaedics and correction. For more than 80 years the yellow octagon that symbolises Vibram has been synonymous worldwide with quality, performance, safety and innovation in the footwear industry. With its international headquarters in Albizzate (Varese) Italy, Vibram produces over 40 million soles every year, dedicates over one million kilometres to testing, is present in 120 countries and has manufacturing, research and representation bases in the USA, China, Japan, Brazil and Italy. For more information, visit www.vibram.com.