Challenged Athletes Foundation And 100% Launch Exclusive 24-Karat Gold Eyewear to Benefit Athletes with Physical Challenges
August 17, 2021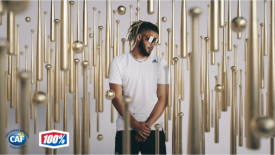 CAF Kicks Off Donation Program with Online Auction, Now Accepting Bids for Exclusive Fernando Tatis 23 Ultra-Limited Edition 24K Gold Sunglasses
SAN DIEGO, CA – August 17, 2021 — Together with Official Global Eyewear Partner 100%, Challenged Athletes Foundation (CAF) today announced the first in a series of donation opportunities, with an online auction in which 2 winning bidders will each received a pair of Fernando Tatis 23 Ultra-Limited Edition 24K Gold Sunglasses. Designed by 100% in collaboration with San Diego Padres super-star Fernando Tatis Jr., each pair features a brilliant 24-karat frame and gold-coated performance lens. Only fifty (50) of these unique sunglasses (valued at $750 each) have been produced, and each is individually numbered.
CAF will host an online auction beginning August 17, 2021, and will feature two (2) of the 50 Ultra-Limited Edition 24K Gold S3 Sunglasses. Bids will start at $750 and all proceeds from the promotion will benefit the Challenged Athletes Foundation, supporting athletes with physical challenges through sports. CAF believes that involvement in sports at any level increases self-esteem, encourages independence and enhances the quality of life.
"We're excited to have such an amazing ambassador like Fernando Tatis Jr., and we're confident that the fundraising generated from these special 24K Gold sunglasses will help us make an additional significant contribution to the Challenged Athletes Foundations' incredible mission," said 100% Co-Founder and CEO Ludo Boinnard.
"What CAF, 100% and Fernando Tatis Jr. have in common—changing the game with determination and an unrelenting belief in oneself—and the funds raised from this unique collaboration will help instill that self-confidence and fighting spirit in more youth athletes with physical challenges," said CAF Senior Director of Marketing Laura Wolf Stein.
TATIS 23 ULTRA-LIMITED 24K GOLD S3® SUNGLASSES
In addition to its breathtaking 24K gold-coated performance lens, each piece carries Fernando's "FT" brand and is numbered "## of 50". A 24K seal is etched onto the gold lens, and the eyewear is presented in a packaged kit which also includes commemorative cards with Fernando's signature. This 24K gold S3® eyewear is only available for purchase via a charitable donation starting at $500 each.
CAF's auction is currently live, and will be accepting bids until October 3, 2021, 11:59pm PT. As mentioned, this auction is the first of several donation opportunities to launch this exclusive eyewear. Additionally, 100% has launched an online raffle in which participants may purchase a ticket for $23 to receive one (1) entry for a chance to win a pair of Tatis 23 Ultra-Limited 24K Gold S3 Sunglasses. This raffle is currently live, with an entry deadline of August 31, 2021, 8:00 pm PT.
More donation opportunities are being planned, with all proceeds benefitting Challenged Athletes Foundation. CAF has been a world leader for 28 years in helping people with physical disabilities get access to adaptive sports equipment and programming and lead active, healthy lives.
Visit http://support.challengedathletes.org/tatis to access the current CAF auction and 100% raffle, as well as all future opportunities as they become available.
 Media Images: https://www.dropbox.com/sh/nrbhimpozu3qvqn/AACFo6bX37hNcCMz0BNNCZCWa?dl=0
About 100%®: 
100%, based in San Diego, California, is an independent premium sports brand with a focus in performance eyewear, technical apparel and sports protection. 100% empowers today's most demanding athletes with the performance technologies and gear they need to compete at the top of a wide variety of sports.
The 100% brand has been synonymous with Motocross Americana and linked to many iconic moments that laid down the roots of what is modern Motocross. 100% dates back to the early 1980's when the popular logo graced the factory racing equipment of the biggest stars in Motocross.
Today, 100% is inspiring a whole new generation of athletes and asking them the original tagline: "How much effort do you give?" The 100% brand boasts an impressive roster of athletes include seven-time Tour de France green jersey winner and three-time road cycling world champ Peter Sagan, two-time 450 AMA Supercross champion Cooper Webb, three-time downhill mountain biking world champion Sam Hill, UCI cross-country mountain bike world and European champ Jolanda Neff, Brazilian ultra-running phenom Fernanda Maciel, four-time UCI downhill world champ Loïc Bruni, Reigning UCI downhill world champ Reece Wilson, 2013 Ironman world champion Frederik Van Lierde, New York Mets' Pete Alonso, Atlanta Braves' Ronald Acuna Jr. and San Diego Padres star shortstop Fernando Tatis Jr. Follow us on Facebook, Twitter and Instagram. www.100percent.com
About Challenged Athletes Foundation
The Challenged Athletes Foundation® (CAF) is a world leader in helping people with physical challenges lead active, healthy lifestyles. CAF believes that participation in physical activity at any level increases self-esteem, encourages independence and enhances quality of life.  Since 1994, more than $134 million has been raised and over 35,000 funding requests from people with physical challenges in all 50 states and dozens of countries have been satisfied. Additionally, CAF's outreach efforts impact another 60,000 individuals each year. Whether it's a $2,500 grant for a handcycle, helping underwrite a carbon fiber running foot not covered by insurance, or arranging enthusiastic encouragement from a mentor who has triumphed over a similar challenge, CAF's mission is clear: give opportunities and support to those with the desire to live active, athletic lifestyles. To learn more, visit challengedathletes.org or call 858-866-0959. 
#   #   #
Media Contacts:
Christy Fritts                                                                          Diane Thibert
Challenged Athletes Foundation                                     100% Public Relations
858.442.9570                                                                          310.804.2400
christy@challengedathletes.org                                        diane@100percent.com