Challenge Family Announces Challenge Montpellier
May 13, 2022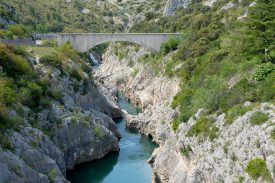 There is a new long distance race on the race calendar with today's announcement of Challenge Montpellier on 7 May 2023. The latest member of the Challenge Family will take in 226km of some of the most striking rural and urban landscapes of southern France and also feature one
12 May 2022. /ENDURANCE SPORTSWIRE/ – There is a new long distance race on the race calendar with today's announcement of Challenge Montpellier on 7 May 2023. The latest member of the Challenge Family will take in 226km of some of the most striking rural and urban landscapes of southern France and also feature one of the few single-lap 180km bike courses on the international triathlon circuit.
In addition to the long distance, Challenge Montpellier will also run over the middle distance with both events making the most of the spectacular Hérault landscapes amid vineyards and olive trees. The long distance course also takes in a section of the striking Les Gorges de l'Hérault and skirts the base of well-known local landmark, Le Pic Saint Loup, one of the most beautiful natural sites in the area.
Challenge Montpellier race director, Bertrand Mulot said he and his co-organisers, Antoine Pineau and Pierry Baldet, were looking forward to welcoming athletes from all over the world.
"We are looking forward to welcoming athletes to the first edition of Challenge Montpellier, an event set up by triathletes for triathletes. A swim in the Mediterranean Sea, bike courses that allow you to discover the varied landscapes of the Hérault and a run through the new districts of Montpellier along the smallest river in France for a festive arrival at the Zénith Sud de Montpellier. And it's all about the whole family with free events for children on the Saturday afternoon. Challenge Montpellier is an event where social and environmental responsibility are highlighted such as tree planting in the town of Villeneuve lès Maguelonne and part of every registration fee is donated to a heart transplant charity.
"Organising an event of this magnitude cannot be done without the significant support of local authorities (Métropole de Montpellier, Département de l'Herault, Région Occitanie), our sponsors and our volunteers. We hope all triathletes have an extraordinary race that will make Challenge Montpellier an essential event on the French and European calendar."
"We're delighted to confirm a new long distance race on the Challenge Family race calendar," said Challenge Family CEO, Jort Vlam. "Bertrand, Antoine and Pierry are not only passionate about triathlon, they understand the importance of community and we look forward to working with them to develop Challenge Montpellier into an
event that brings benefits at multiple levels to the region as well as a memorable race for the athletes and their families. With its single lap bike course, the wonderful French 'joie de vivre', and amazing setting, we look forward to Challenge Montpellier quickly becoming a bucket-list race for athletes around the world."
The Course
The 3.8km/1.9km swim start is based at Le Prévost beach in Villeneuve lès Maguelone, just 10km from Montpellier. The water quality is exceptional and has been recognised for more than 30 years under the Blue Flag label.
The bike is a single, 180km/90km loop and athletes will travel through typical towns and landscapes of the south, La Taillade, Les Gorges de l'Hérault, Le Pic Saint Loup and its vineyards before arriving at T2 at Le Zénith Sud de Montpellier festival complex.
The multi-lap 42.2km/21.1km run goes along Le Lez, the smallest river in France, allowing triathletes to discover the new iconic architecture of Montpellier, Antigone, Arbre Blanc, Nouvelle Mairie and the Port Marianne district before enjoying the finish line celebrations at Le Zénith Sud de Montpellier.
For further information and registrations, visit www.challenge-montpellier.com.
-ends-
About Challenge Family
Celebrating 20 years of Challenge in 2022 and with over 30 long and middle distance triathlons around the globe featuring spectacular courses in iconic destinations, no Challenge Family race is like any other. Focusing on delivering the race of a lifetime to athletes of all ages and abilities, Challenge Family races provide unforgettable experiences that capture all the excitement and emotions of this inspirational sport for competitors, friends, family and supporters alike. #AllAboutTheAthlete #WeAreTriathlon