Challenge Family and ROUVY Host Indoor Training Camp This Weekend
September 27, 2022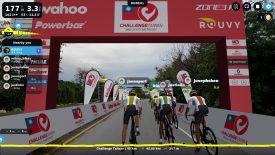 As the Northern Hemisphere days get shorter and the weather gets cooler, Challenge Family and ROUVY have prepared an indoor training camp, using the most realistic virtual riding experience
/ENDURANCE SPORTSWIRE/ – As the Northern Hemisphere days get shorter and the weather gets cooler, Challenge Family and ROUVY have prepared an indoor training camp, using the most realistic virtual riding experience, available on three spectacular Challenge Family bike courses. Triathletes can look forward to a moderate intensity and fun programme along with great gear prizes and the chance of a real race entry for the lucky ones.

Kicking off the indoor training season, the training camp will run from 30 September to 2 October, showcasing three of Challenge Family's iconic bike courses, brought inside by ROUVY's unique real life footage and advanced 3D graphics motion. Today, ROUVY offers 20 Challenge Family virtual courses from 13 countries which represent the spectacular locations the races are hosted at.
First up at 6:00 pm CEST on Friday, 30 September, is a group ride with Clas Björling on the Challenge Vansbro course amongst the beautiful, scenic Swedish landscapes. Saturday is workout day on the Challenge Davos course, set in the Swiss Alps, that can be done in the participants' own time. The training camp finishes with a 45km race on the course of Asia's largest long distance triathlon, Challenge Taiwan, on Sunday 2 October at 9:00am CEST.
Prizes from Challenge Family partners, Wahoo, Abus and PowerBar will be awarded at each of the training camp events with two overall prizes of a free entry to any Challenge Family race* for those who complete all three events. (*excluding DATEV Challenge Roth and The Championship)
For further information and to register visit: https://bit.ly/3UGMkL4
###
About Challenge Family 
Celebrating 20 years of Challenge in 2022, and with over 30 long and middle distance triathlons around the globe featuring spectacular courses in iconic destinations, no Challenge Family race is like any other. Focusing on delivering the race of a lifetime to athletes of all ages and abilities, Challenge Family races provide unforgettable experiences that capture all the excitement and emotions of this inspirational sport for competitors, friends, family and supporters alike. #allabouttheathlete #wearetriathlon
About ROUVY
ROUVY is a digital platform for athletes all over the world to compete, ride or run with friends, complete workouts, and do much more. ROUVY offers thousands of stunning video routes and workout options including the ability to race and ride through the entire route catalogue. With fully simulated and realistic efforts, ROUVY is the best option for the most demanding and toughest endurance athletes to be race-day ready.
www.rouvy.com.