CCB – Alpine Carbon to Partner with Foundation Cycling for National Cycling League Series Events
March 21, 2023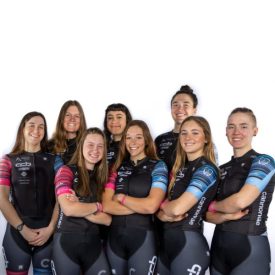 BOSTON, Mass. (March 21, 2023)/ENDURANCE SPORTSWIRE/ – CCB – Alpine Carbon Elite Women's Cycling is pleased to announce a collaboration with Foundation Cycling to participate in the new National Cycling League race series. The revolutionary new series requires women's and men's teams to partner together with combined scoring in a points-based format, with athletes competing in a four race series on iconic circuits in iconic cities. Men and women will compete on the same team, on the same course, in a way that respects their differences yet weighs their performances and values their contributions equally.
Foundation renewed its partnership with CCB, which previously saw support of the U23 men's program for several years. The alignment of both team's missions has been a natural fit and the productiveness of the partnership in the past bodes well for 2023 and beyond, with countless riders from each program making the step up to higher level professional teams over the last decade.
CCB aims to continue to prioritize partnerships with organizations and sponsors in the Northeast to aid in the development of their riders, many of whom are local to the area.
About Foundation Cycling:
Foundation Cycling is a 501(c)(3) organization in New York City with a great history in supporting financially disadvantaged riders from the U.S. as well as Central and South America, who would otherwise not have the opportunity to pursue cycling at the highest levels. Foundation recognizes the importance of providing the future of the sport with a sustainable, responsible development pathway.
The highly competitive team which competes on an international, national, and regional level has graduated over 28 racers to the pro level and currently maintains an elite team of 15 Cat 1 racers, primarily from diverse backgrounds across race, nationality, and culture as well as a local team of more than 90 individuals including aged 35+ Cat 2 – 5 racers. Established in 2000, they are easily the most recognized team in New York City and the surrounding regions, known for promoting diversity and inclusion through leadership and are the most winning team in the NYC region.
With a "Pay it forward" philanthropic passion, Foundation is focused on coaching, housing, and finding jobs for underprivileged racers who aspire for professional careers in racing or related to the sport of cycling. As a Nonprofit 501(c)(3) Charitable Organization, they have fundraised over $350K for Alzheimer's Association, $250K for Cycle for Survival, $200K for World Bicycle Relief and regularly supports 7 other charities.
About CCB:
CCB was founded as a cycling club in Basingstoke, England over 50 years ago. In 1976, several CCB members immigrated to the US, bringing along with them the CCB jersey and subsequently founding the CCB International cycling club in 1976, based in the Boston/North Shore area. The club currently has over 300 members worldwide. Over the years, CCB has been a perennial powerhouse in both US domestic and international racing and is now the longest continually-running elite/pro team in the US and one of the most well known development teams in the world. The team has morphed over the years, always trying to serve emerging development needs in US cycling. Most recently, the team exists as a U23 men's team that has operated internationally, competing in a strong calendar of professional races, and as a women's multi-discipline race team; both with the focus of supporting riders that are/have pursued a post-secondary education along with the cycling aspirations. The team has "graduated " 14 riders to professional teams over the last 7 years, more than any other program in the US. But more importantly, every rider that has come through the program in that time has gone on to complete (or is on track to) their post-secondary education, in line with the team philosophy of "education through athletics"