Cat Bradley Hosts Laird Hamilton and Gabby Reece on BeRad The Podcast
January 4, 2023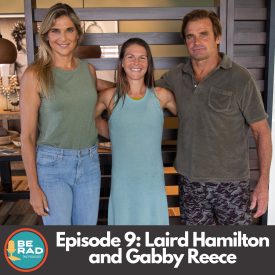 Expanding the Conversation Beyond Running
/ENDURANCE SPORTSWIRE/ – In this episode of BeRad The Podcast, Cat sits down with Laird Hamilton – the most influential waterman of our time, and Gabby Reece – the force behind his long career while still spearheading her own business in health and wellness. These two high-achieving individuals talk about their relationship with sport, the community in Hawaii, work, family, and their relationship with each other. Gabby and Laid do it all and manage to find beauty in the heart of the grind. Tune in to hear how this power couple makes the most out of life.
The BeRad Podcast | Episode 9 | Laird Hamilton + Gabby Reece:
For more on Laird and Gabby (guests):
For more on Cat (host):
About BeRad Podcast 
Cat Bradley, Carson Magoon, and Shirley the dog are hitting the road to have energizing conversations with athletes and extraordinary people around the country. Join us as we dig beneath the surface and have meaningful conversations that make you think and feel, with fresh perspectives to give you episodes that will suck you in and leave you feeling inspired and ready to do anything. Tune in on Apple Podcasts and Spotify, and catch exclusive footage of our adventures on YouTube.