Carina Wasle, Michele Bonacina win XTERRA Lake Scanno
July 22, 2023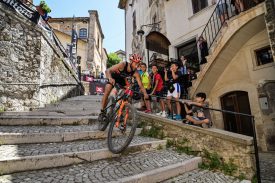 Carina Wasle (AUT) and Michele Bonacina (ITA) won the 10th annual XTERRA Lake Scanno off-road triathlon women's and men's elite titles on Saturday, July 22, 2023, at the famous heart-shaped lake in Southern Italy's Abruzzo National Park.
/ENDURANCE SPORTSWIRE/ – Carina Wasle (AUT) and Michele Bonacina (ITA) won the 10th annual XTERRA Lake Scanno off-road triathlon women's and men's elite titles on Saturday, July 22, 2023, at the famous heart-shaped lake in Southern Italy's Abruzzo National Park.
It's the 24th career XTERRA World Tour win for Wasle in her illustrious 18-year XTERRA career, and the first for Bonacina.
The 13th of 21 stops on the 2023 XTERRA EMEA Tour combined a 1.5K swim with a two-loop 30K mountain bike, and a tough 11K trail run.
In the women's elite race Georgia Grobler (RSA) was first out of the water with Katja Krenn (AUT) six seconds back, Lorena Erl (GER) 11 seconds behind, and Wasle a full 1:45 off the pace.
"It was a hot day and I was mindful not to overpace so I took it easy early on and couldn't keep the group so my swim was really bad, but I knew it was going to be a long day," said Wasle.
Roughly 7K into the mountain bike segment Wasle was still in fourth, with the trio of Grobler, Krenn, and Erl riding together up front. Erl posted the fastest bike split of the day and Grobler, who had rented an Enduro downhill mountain bike from Rome for the race, was crushing the dowhills.
"It was quite fun out there because Georgia and I were riding together almost the whole way," said Erl.
Those two, Erl and Grobler, came into the bike-to-run transition close together and still had a big gap on Wasle, but not big enough.
"What a dynamic race, we could always see each other so had reasons to push, and we were changing positions all the time," said Grobler, who won the 25-29 division XTERRA World Championship title last year before going pro.
"On the run, Carina caught up and she was dynamite. I could see her ahead of me but couldn't keep up, but it was a really good battle, I loved every minute of it. This was my first elite podium, so I'm very excited."
Wasle posted the fastest run split of the day by nearly two-minutes to take the tape in 3:25:56, and the top spot in an XTERRA major for the first time since 2019.
"It's always fun when you win," she smiled. "I'm really happy,this is one of my favorite races on the World Tour. The course is amazing, the people are amazing. When I got out onto the run my legs were there but even after I caught Georgia I couldn't drop her, so I had to run all out on that last 1.5K to the finish."Grobler was just 12 seconds back in second, Erl held on for third, Italian amateur standout Sammartano Tatiana finished fourth, and Krenn came in fifth.
Top 5 Women
Pl – Name, NAT (Time)
1 – Carina Wasle, AUT (3:25:56)
2 – Georgia Grobler, RSA (3:26:08)
3 – Lorena Erl, GER (3:29:56)
4 – Sammartano Tatiana, ITA* (3:42:25)
5 – Katja Krenn, AUT (3:44:34)
*Amateur
In the men's elite race Michele "The Shark" Bonacina led from wire-to-wire, posting the fastest swim (21:19) and bike (1:26:34) times to cross the line with a winning time of 2:40:18, more than four-minutes ahead of runner-up Wouter Dijkshoorn on the Netherlands.
"My first full-distance win and to do it here in my home country, I'm super happy," said Bonacina, who is having a break-out season and currently ranked fourth in the XTERRA World Cup.
"I led the swim and tried to push to make a gap on the bike because there were some strong bikers in this field and just wanted to stay in front as long as possible. On the run after the second climb, I was really tired but just kept going and it wasn't until the last climb that I realized I had a good gap and with 1K to go I felt relaxed and was able to enjoy the victory."
In the chase for second Dijkshoorn, Karel Dusek (CZE), and Sebastien Neef (GER) were riding together nearly three minutes behind Bonacina at the 7K mark. From there, Dusek fell back, Neef fell down and broke a finger, but Dijkshoorn stayed strong and came into T2 in second.
"I was quite excited to race here, it's so unique and the mountain bike route requires so many different kinds of skills. There's the stairs up and down in the village, the small narrow roads with off-camber turns, and it was hot," said Dijkshoorn. "I knew Bonacina was way faster but I tried my best and had a good race in the second spot."
XTERRA veteran Xavier Dafflon (SUI), the 2017 Scanno Champ, was the last elite man out of the water, more than five minutes off the pace, but strung together a fantastic bike and run to finish in third.
"I only have good memories here, and I commend the organizers for the new bike route. The loop is shorter and quicker, the climbs are shorter, but it's still really nice and has that Scanno style with a lot of fun, technical, tricky downhills that you have to respect and stay focused on all the time," said Dafflon. "Now I look forward to some pizza and Abruzzo beer tonight. XTERRA is not only racing, it's discovering new places and being with friends and family, and this is a beautiful place for that."
Top 5 Elite Men
XWR – Name, NAT (Time)
1 – Michele Bonacina, ITA (2:40:18)
2 – Wouter Dijkshoorn, NED (2:44:37)
3 – Xavier Dafflon, SUI (2:46:10)
4 – Riccardo Ridolfi, ITA (2:47:08)
5 – Dominik Wychera, AUT (2:48:13)
Find highlights from today's race on Instagram.
XTERRA Lake Scanno was the second of four big races in Italy this year. The first, XTERRA Lake Garda, was won by Arthur Serrières (FRA) and Helena Karásková (CZE) in May. The next is the XTERRA World Championship which will be held in the Dolomites surrounding Trentino in September, and the finale is in Sardegna in mid-October.
All-time XTERRA Italy Lake Scanno Elite Champions
Year – Man/Woman
2013 – Conrad Stoltz/Helena Karaskova-Erbenova
2014 – Ruben Ruzafa/Helena Karaskova-Erbenova
2015 – Ruben Ruzafa/Helena Karaskova-Erbenova
2016 – Mauricio Mendez/Lesley Paterson
2017 – Xavier Dafflon/Helena Karaskova-Erbenova
2018 – Roger Serrano/Eva Garcia Gonzalez
2019 – Ruben Ruzafa/Helena Karaskova-Erbenova
2021 – Maxim Chane/Sandra Mairhofer
2022 – Maxim Chane/Alizee Paties
2023 – Michele Bonacina/Carina Wasle
UP NEXT: The XTERRA World Cup jumps back into action with back-to-back-to-back races at XTERRA Czech in Prachatice (Aug. 12-13), XTERRA Germany in Zittau (Aug 18-19), and the XTERRA USA Championship in Colorado. Watch the mid-season recap here.