Cannes rolled out the red carpet for GFNY
March 29, 2022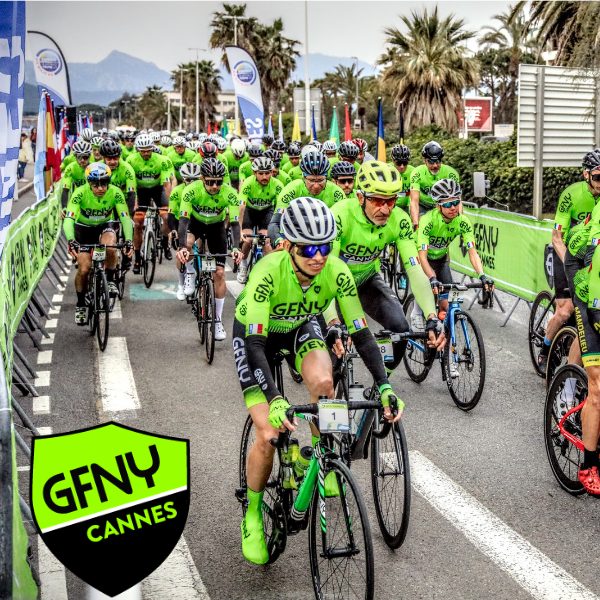 The glam city at the French Riviera opened the European GFNY season
NEW YORK CITY, March 29, 2022/ENDURANCE SPORTSWIRE/ – GFNY Cannes was the first of six GFNYs in France in 2022. Racers tackled 111 km with 2013m of climbing from the glitzy coast of Cannes, through the curvy and hilly hinterland roads with two important climbs and back to the coast.
Shortly after the start, Col du Tanneron with its 7.5km of climbing was raced hard and led to a first significant reduction of the contenders. After the descent, Belgian Olivier Godfroid attacked and quickly built a gap that was never closed again by his competitors. At the bottom of Col d'Avaye with its 13.7km climbing, Godfroid had a 1 min. lead. He extended it to almost 3 min. despite the organised attempts of a 10-man group behind him and despite a significant headwind.
Godfroid crossed the finish line in 3:08:01, followed by local hero Julien Plumer and seasoned granfondo racer David Polveroni (France).
Meanwhile there was controversy in the women's race: while Italian Annalisa Prato took the win convincingly, second finisher Canadian Simone Boilard was later disqualified from the race for outside assistance. Race footage showed that her boyfriend and pro cyclist rode with her for lots of the race, yet wasn't a registered rider. Hence, second place went to Barbara Fonseca and third to Cathelin Ramonet (both France).
"It was brilliant to open the bike racing season under the warming spring sun of the Côte d'Azur," says GFNY CEO Uli Fluhme. "And doing so in spectacular Cannes with a GFNY was a dream come true for us. At the finish, the red carpet was rolled out for our riders. GFNY Cannes will no doubt be back in March 2023!"
Next up on the GFNY calendar is GFNY Peru on April 10. Riders tackle the world's highest road cycling race in the Andes of historic Cusco.
Website: cannes.gfny.com
About GFNY Global Endurance Sports Series
GFNY Global Endurance Sports Series is a sports event company with three decades of experience in racing, planning and organising events. The global endurance sports brand hosts multiple events throughout the year around the world on five continents.
Working with partners around the world to deliver a first-class experience, GFNY Global Endurance Sports Series puts their athletes first.
Cycling
30 plus events around the world. View the 2022 calendar here
Riders get to BE A PRO FOR A DAY ® by competing against others, themselves and the clock in a personal endurance challenge.
Top 10% (20% at regional championships) of finishers in each age group qualify for the Racer Corral at every GFNY World event.
GFNY World Championship NYC
The 10th annual GFNY World Championship New York will be held on May 15, 2022. The race features the world's most international peloton with riders from over 90 countries. Athletes take on a challenging 100-mile route from NYC to Bear Mountain to Fort Lee to compete against each other, the clock and themselves in a personal endurance challenge.
The official GFNY website is: www.gfny.com.
Further Material for Media Use
Official GFNY Cannes video: here
GFNY Press Images: here
GFNY Results: here
GFNY World calendar graphic: here
Previous GFNY press releases: here
Media Contact
Gran Fondo New York Inc.
Uli Fluhme, uli@gfny.com
Caroline Lindsay, caroline@gfny.com