Canadians Ryan Atkins and Emma Cook-Clarke Win Spartan's North American Championship in North Lake Tahoe, CA
September 30, 2021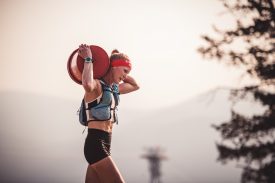 Regions's Best Obstacle Course Racers Advance to Spartan World Championship in UAE, Hosted by Abu Dhabi Sports Council - December 3-5
NORTH LAKE TAHOE, CA (September 28, 2021) – Spartan®, the world's leading endurance sports and wellness brand, returned to the rugged mountains of Palisades Tahoe (formerly Squaw Valley) in North Lake Tahoe, CA — host of the 1960 Winter Olympics — for the 2021 Spartan North American Championship over the weekend. After battling 30 obstacles covering a half-marathon and more than 4,200 feet of elevation across technical terrain, Canadians dominated the No. 1 spot on the podiums, as Ryan Atkins and Emma Cook-Clarke won the men's and women's events, respectively.
The regional championship event saw the best Obstacle Course Race (OCR) athletes from the U.S., Canada, and Mexico National Series events descend on the picturesque destination to vie for $62,000 USD in prize money. The Spartan Beast® event was presented by Yokohama and hosted by North Lake Tahoe Resort Association. Joining Atkins on the Men's podium were American Ryan Woods (2) and Mexico's Angel Quintero (3). The women's podium was rounded out by American Annie Dube (2) and Slovenian Rea Kolbl (3).
This is the first North American Championship title for both Atkins and Cook-Clarke. This also marks the first time the North American Championship event has been held in North Lake Tahoe, as the Palisades is the former home of the Spartan World Championship, which is scheduled for Abu Dhabi, UAE later this year.
The next stop for the top athletes on the leaderboard is the 2021 Spartan World Championship hosted by Abu Dhabi Sports Council on December 3-5, 2021 in the Liwa desert. The new location marks the first time the event will be staged outside the United States. The event weekend features the Elite Spartan World Championship BEAST and the Spartan Team World Championship. Racers of all skill levels will also have the opportunity to compete in an Open heat SPARTAN BEAST; a 10k, 25-obstacle NIGHT SUPER; and 50k and half-marathon Spartan Trail running events, along with SPARTAN KIDS events.
MEN'S ELITE
WOMEN'S ELITE
Ryan Atkins (CAN)
1:56:23
Emma Cook-Clarke (CAN)
2:19:28
Ryan Woods (USA)
1:58:22
Annie Dube (USA)
2:20:49
Angel Quintero (MEX)
2:02:34
Rea Kolbl (SLO)
2:25:30
Ja Shua Ried (USA)
2:06:39
Alex Walker (USA)
2:28:26
Lars Arneson (USA)
2:07:28
Arielle Fitzgerald (CAN)
2:35:20
For more information visit Spartan.com.
About Spartan
Spartan is a global experiential sport and wellness brand with a 10 million+ strong community. We create transformational experiences, products, and content to help people, companies and teams tear down boundaries and expand what they believe to be possible. Spartan combines large scale global events with a vibrant digital Content and Community Platform. With more than 250 events across more than 40 countries on six continents, Spartan is the world's leading extreme wellness and endurance brand. Visit spartan.com for more information and registration.