Camp Alligator Training Announced as Event Registration Soars
May 24, 2022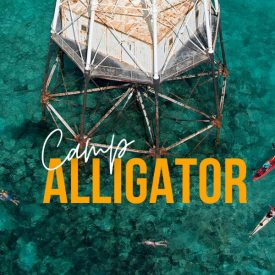 Camp Alligator launches to support swimmers in their journey to Swim for Alligator Lighthouse success as the event is on the way to a sell out with over 300 swimmers already registered.
Saint Augustine Beach, Florida/ENDURANCE SPORTSWIRE/ – Salty Sports Society has announced Camp Alligator, a training camp weekend designed to provide swimmers with swim technique, training outline, and event details needed to successfully navigate the World-Famous Swim for Alligator Lighthouse open water event in September. This announcement comes just as the event eclipses over 300 swimmers registered, a number that has it trending at an even quicker sell out than usual.
"We take pride in crafting unique experiences for our swimmers, with Camp Alligator we have secured a host of talent to design the curriculum and lead the camp including Connor Signorin, reigning Overall Swim for Alligator Lighthouse Champion, Lydia Plotz who kayaked for the champion, and Fred Ryzmek Race Director just to name a few" said Matt Dunn, Co-Founder of Salty Sports Society, in a recent interview. "Swim for Alligator Lighthouse is the adventure of a lifetime. It really is an event unlike any other in the world. We want to ensure swimmers are prepared with the training and planning tactics that can help make their race day both successful and enjoyable."
The weekend will be in the "choose your own adventure" style that Salty Sports Society has become known for with the core curriculum being condensed to Saturday, with multiple swim and social events across the weekend. The unique format caters to both the local swimmer and those traveling in from out of town. Full details can be found at: https://www.saltysportssociety.com/camp-alligator
Swim for Alligator Lighthouse currently sits with more than 300 swimmers registered. Pacing faster than any other year in history, the event is well on its way to an early summer sell-out. This is thanks to strong support from previous swimmers, the Islamorada community, and the spirit behind the non-profit vision to Save Alligator Lighthouse.
About Salty Sports Society
Aquatic sports are the ultimate way to enjoy the water at its simplest. Water has the unique ability to calm, humble, and empower us. Salty Sports Society was founded with a simple mission; to craft unique open water swimming event experiences in memorable destinations.
We began by putting together a team with more than 150+ combined years of experience managing endurance sports events. We created attentive, thorough, unsurpassed water safety plans, and formed partnerships with destinations committed to showcasing and growing quality coastal lifestyles.
Our mission is simple, but our work is ever evolving. Whatever it takes to create the best events, that bring great people together, and allow them to travel, swim and enjoy a healthy lifestyle.
Remaining 2022 Speedo SALT Series Dates
Camp Alligator, Clearwater Beach, FL, June 17-19, 2022
Swim for Alligator Lighthouse, Islamorada, FL, September 10, 2022
Swim With Nick, Dania Beach, FL, October 1, 2022
Southern Cross, Fort Myers Beach, FL, December 3, 2022
For further information, please contact Matt Dunn at matt@saltysportssociety.com, log onto www.saltysportssociety.com or on social media at @saltysportssociety.