Bridgestone partnered with Pic2Go for Sponsored Photography at 43rd Warsaw Marathon
November 19, 2021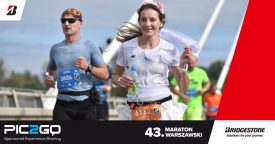 /ENDURANCE SPORTSWIRE/ – Bridgestone– the title sponsor of the 43rd Warsaw Marathon, partnered with Pic2Go to power Pic2Go's sponsored race photography at the marathon, driving 89% social sharing rate and generating 1.7 million photo impressions for Bridgeton's branded photos!
Pic2Go's race photo tagging technology enabled processing over 103,000 photos during race day, taken by the 14 professional photographers of the Pic2Go Poland team.
Pic2Go was asked by Bridgestone Europe and the Warsaw Marathon organizer to provide the sponsored photo service for the participants in order to increase Bridgeton's recognition in the Polish market.
"Pic2Go seems to be a natural choice of sponsored photo delivery platform, as it guarantees high exposure to the race sponsors, and for runners it is an unforgettable and valued souvenir from the race." said Patrick Czarnowski – CEO of Pic2Go Poland.
"Already 30 minutes from the start, the competitors received the first photos on their personalized RunPage photo gallery. There were 14 professional photographers on the route at 28 spots. As a result, we took over 103,000 photos, and the runners were able to enjoy a record number of the best quality photos.
"The cooperation between Bridgestone and Pic2Go was a great opportunity to intensively promote the Bridgestone brand at a prestigious running event. " added Patrick.
About Pic2Go
Established in 2010, Pic2Go is a global solution provider for Sponsored Race Photography, providing endurance event participants with free branded photos and videos to share on social media, while boosting race sponsorship. Pic2Go's race photography technology is used by major events and sponsors in 40 countries.
For more information about Pic2Go visit http://www1.pic2go.com
About Warsaw Marathon
The 43th Warsaw Marathon took participants through the Polish capital's tumultuous past, reminding of its survival after being virtually destroyed at the end of World War II. Having been held since 1979, the Marathon is the oldest one in Poland and is one of Europe's fastest growing marathons!
For more information about Warsaw Marathon visit https://maratonwarszawski.com/en/
About Bridgestone Europe
As a global leader in tyres and rubber providing solutions for safe and sustainable mobility, Bridgestone is at the forefront of designing and developing innovative technology that has a positive impact on the safety, efficiency, cost effectiveness, and sustainability of transport.  Bridgestone Europe is wholly owned subsidiary of Tokyo-based Bridgestone Corporation.
For more information about Bridgestone Europe visit http://www.bridgestone.eu/