"Boulderthon's Next Top Influencer" Competition Announced
September 12, 2023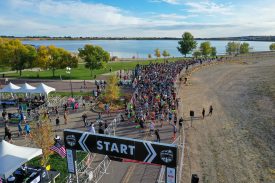 The contest will serve as a unique facet of both Boulderthon's engagement with content creators and the race weekend experience
BOULDER, Colo. /ENDURANCE SPORTSWIRE/ – Boulderthon®, the fastest-growing marathon series in Colorado, has announced the addition of "Boulderthon's Next Top Influencer" to its race weekend festivities. This will be the first year of the competition taking place, and will allow participants the opportunity to compete with each other off the race course. Entries are now being accepted and the winner will be announced on race weekend.
The competition will be open to participants who have a public Instagram profile with under 10,000 followers. They must reside in Colorado and should be available during race weekend, Oct. 7 and 8, so they can run and be recognized.
Eligible participants are asked to post a one-minute-long Reel on their Instagram page, sharing why they are the next big name in running content and in the running community. . On their post, they must use the hashtags #Boulderthon and #BoulderthonContest. Entries should be posted by Sept. 22, 2023.
Boulderthon will be collaborating with content creators that are partnering with the race to be a part of the judging panel. Together with event leaders, they will select the winner of Boulderthon's Next Top Influencer. The selection process will be taking place from Sept. 22-27, and the winner will be contacted on Sept 29.
"Running content creators are helping more people discover the sport. Ahead of Boulderthon race weekend we wanted to provide an engaging way to get our participants across the board involved beyond just the running experience," said Phil Dumontet, founder and president of Boulderthon. "We're so excited for the addition of this competition, and can't wait to see all the creative content our participants submit."
The winner of Boudlerthon's Next Top Influencer will be awarded the following:
Five 2024 Boulderthon bibs/entries
Swag bag
Dedicated email blast, press release and posts across Boulderthon's platforms highlighting them as the winner
Registration for Boulderthon remains open, though it is expected to sell out soon. The top-rated, fast-growing race series became the second-largest marathon series in Colorado in its first year of existence, and the largest fall running event in the state. In its second annual edition, Boulderthon drew runners from all 50 states as well as 15 countries, as the signature marathon showcased the world-class city of Boulder. After nearly tripling in size last year and selling out, Boulderthon has instituted a new 8,000 runner cap. In 2023, Active.com named Boulderthon one of the Top 5 Best Half Marathons in the United States.
For more information on Boulderthon, visit www.boulderthon.org.
About Boulderthon®
Boulderthon® was created in 2021 by avid New York Road Runner, Phil Dumontet, with the goal of bringing a world-class marathon to one of the great running hubs of the country. It is a Boston Marathon Qualifying (BQ), USATF Sanctioned Event, measured by a Level A USATF Course Measurer, representing the highest level of certification for a marathon race series. The race offers a full marathon, half marathon, 10K, 5K, and children's races. For more information, visit www.boulderthon.org.
###