Boston Athletic Association Renews Partnership with The Boston Run Show for 2024
June 20, 2023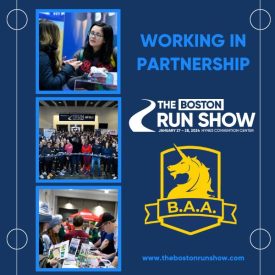 Boston, MA – June 20th 2023 /ENDURANCE SPORTSWIRE/ – The Boston Run Show, the new expo dedicated to all things running, is thrilled to announce the renewal of its partnership with the esteemed Boston Athletic Association (B.A.A.) for the year 2024. Following a highly successful collaboration for the launch in 2023, the Boston Run Show and the B.A.A. are joining forces once again to continue their shared commitment to promoting health, wellness, and community engagement through the sport of running.
Designed to take place 5 months before the city's marathon, the Boston Run Show gathers running brands selling cutting-edge technologies, gear, apparel, shoes, nutrition and coaching to prepare runners for their year of races and challenges. The event is much more than a shopping experience, interactive features and two stages of inspirational content are aimed to motivate, educate and enthrall the city's runners, plus it's suitable for families. The expo's principle 'you're a runner, no matter how far or fast you go' hopes to inspire new runners from all over the States to join the community meet up, ensuring the event is accessible and inclusive to all.
Jack Fleming, President and CEO of the Boston Athletic Association commented, ""Boston is home to an incredible community of runners, and we look forward to partnering with The Boston Run Show once again to celebrate and bring together runners throughout our city. With The Boston Run Show taking place just a few months before our 128th Boston Marathon, together we hope to inspire, motivate, and interact with runners of all ages and abilities. The B.A.A. will again have a presence at the expo showcasing our year-round calendar of events, our running club, and our commitment to building healthy lifestyles in Boston and beyond."
Set to take place January 27th -28th, 2024, The Boston Run Show is seeing substantial growth and interest from brands. In addition to Marathon Sports being the dedicated retail partner, brands already confirmed include aetrex, Altra, Bakline, The Boston Ski & Sports Club, Caterpy, Chi Running, Conscious Gear, Darn Tough, Drankful, Flavanaturals, Hilma, Hyperice, KT Tape, Matrix, Mass General Brigham, Naboso, OOFOS, PUMA, RaceRaves, Therabody and many more listed on the website.
To sign up for a booth or sponsor the event, contact craig.hanratty@raccoonmediagroup.com before early bird pricing ends.
END
Editor's notes:
About Raccoon Media Group
Raccoon Media Group is a dynamic, high-growth media business focused on enabling healthy and active lives. Our media properties deliver year-round content and advice to specialist, self-identifying consumers that share a love of being outside, healthy and active. Our events are well-timed, community-driven, tightly focused and passion-led. They bring buyers and sellers together to see cutting edge innovations in a fun and exciting way.