Boost Performance with Essential Elements' New T-Hero Supplement
March 1, 2023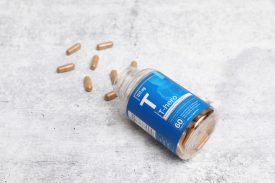 T-Hero is unlike other testosterone supplements on the market, providing support from the boardroom to the bedroom
Los Angeles, CA (March 1, 2023) /ENDURANCE SPORTSWIRE/ – Essential Elements Nutrition (Ee)-the premium, affordable and science-backed sports nutrition brand-is changing the way testosterone supplements boost performance, health, and more. Meet T-Hero, Essential Elements' cutting-edge supplement for comprehensive male health support.
Essential Elements® T-Hero is engineered with a purpose–to boost male testosterone from the boardroom to the bedroom. Curated with clinically studied ashwagandha, unstoppable shilajit, DIM (diindolylmethane), and boron, T-hero cuts down stress levels and improves overall men's health.
"In recent years, there has been a large decline in naturally-occurring testosterone in males due to a variety of factors," said Al Goldman, Creative Brand Manager for Essential elements. "We wanted to make a product that not only combats the drop in testosterone but also helps men live healthy and successful lifestyles."
Non-GMO and major allergen-free, Essential Elements® T-Hero is packed with clinically-researched ingredients to create a breakthrough product. Both Shilajit and DIM work to maintain healthy testosterone and energy levels while boosting mood, whereas the addition of boron supports healthy metabolism and aids muscle growth.
To help with drive and stamina, Ashwagandha not only supports blood flow but also helps maintain normal stress levels by reducing cortisol prevalent in the body. Altogether, these major ingredients make an unstoppable testosterone booster and daily supplement.
T-Hero works by reducing the effect of natural factors that decline testosterone as well as promoting the bodily production of healthy testosterone levels. When testosterone levels are stable, they reinforce male sex drive, bone & muscle mass, and healthy weight. T-Hero also helps manage day-to-day stress with added Ashwagandha.
Turbo-charge your performance and find your true power by including Essential Elements® T-Hero in your routine and prioritizing your personal health for years to come.
Essential Elements provides a variety of products and supplements that support heart, immune, hair, skin, hair, and cognitive health. To learn more about Essential Elements and their full range of products, visit https://essentialelementsnutrition.com/.
###
ABOUT ESSENTIAL ELEMENTS NUTRITION
Essential Elements specializes in manufacturing premium and affordable dietary and wellness supplements. Always science-based from clinically studied, premium, raw ingredients, Essential Elements delivers high potency products that are affordable, natural, safe and effective. Targeted testing and well controlled manufacturing processes allow them to consistently produce quality products you can trust. For more information, visit ee.fit or follow them on Instagram or Facebook.
Media contact:
Matt Kovacs
mkovacs@blazepr.com
310-395-5050