BOA Nutrition Announces Official Brand Partnership With IRONMAN® Triathlon Series
July 27, 2022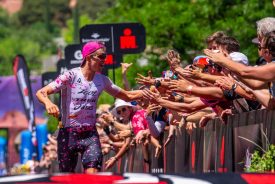 BOA Endure Selected as Official Endurance Salt of IRONMAN® North America
RALEIGH, N.C. (July 27, 2022) /ENDURANCE SPORTSWIRE/ – Sports performance supplement company BOA Nutrition, inventor of the BOA Endure rapid sodium replenishment product, announced today that Endure has been selected as Official Endurance Salt of IRONMAN® in the North America region as well as the IRONMAN® World Championship and IRONMAN® 70.3® World Championship.
IRONMAN produces the iconic full-distance IRONMAN triathlon and IRONMAN 70.3 events, among other competitions. BOA Endure made its IRONMAN debut in May at the 2021 Intermountain Healthcare IRONMAN World Championship presented by Utah Sports Commission in St. George, Utah, where the oral aerosol was provided to over 3,000 athletes to aid with hydration. The BOA brand will be on site again, Oct. 6 and 8, at IRONMAN's pinnacle event, the 2022 VinFast IRONMAN World Championship taking place in Kailua-Kona, Hawai`i. Each participant will receive a canister of Endure, the Official Endurance Salt of IRONMAN, in their athlete bag prior to the competition.
"This multi-year partnership with IRONMAN positions BOA as the preferred sodium replenishment product for triathletes," said Jon Pritchett, CEO of BOA Nutrition. "We can't think of a better organization or group of athletes through which to showcase the groundbreaking benefits of Endure."
In addition to having brand presence at the VinFast IRONMAN World Championship and Intermountain Healthcare IRONMAN 70.3 World Championship presented by Utah Sports Commission, BOA will be featured as the title sponsor of the IRONMAN 70.3 Santa Cruz on September 11, 2022. Earlier this year, BOA signed an endorsement deal with top American triathlete and IRONMAN champion Sam Long. Long has one of the best performance records in the sport with two full-length IRONMAN wins including a course best time at IRONMAN Coeur d'Alene, Idaho, in 2021.
Launched in 2020, the BOA brand was developed in collaboration with athletic training and sports nutrition experts at Duke University. Endure, the first ingestible aerosol, uses the company's proprietary OraBlastTM technology to deliver the same amount of sodium in a two-second spray as an entire 12-ounce sports drink. The aerosol blast, quickly absorbed by the body, can help athletes hydrate up to 10 times faster than liquids, powders, pills, gels, or sticks. Endure protects athletes against the "sodium gap" where fluids can no longer effectively hydrate cells, leading to muscle fatigue, cramping and other hydration-related issues.
BOA Endure recently earned certification from NSF's Certified for Sport® Program, recognized by professional sports organizations worldwide for verified testing against 280 banned athletic substances.
"BOA's innovation in rapid hydration and sodium replenishment is a breakthrough for the sport of triathlon, where compromised performance due to dehydration and cramping is common," said Matt Wikstrom, Chief Partnerships Officer at The IRONMAN Group. "The NSF certification is important to competitive athletes who want to maintain peak performance with confidence, knowing the Endure product is safe and compliant with international standards."
BOA Endure has quickly gained favor and endorsement among professional athletes in endurance sports such as triathlons, marathons, cycling and obstacle course racing, as well as college and professional football, basketball, soccer, tennis and golf.
About BOA Nutrition
BOA Nutrition, Inc. is a sports nutrition and wellness company based in North Carolina. They develop unique products with novel ways to rapidly deliver essential nutrients so athletes of all ages and skill levels can optimize their performance. BOA's objective is to provide athletes with fast-acting, concentrated, great-tasting and convenient products to use no matter where, when, or what the sport. The company's technology, and many other innovations from BOA, are protected by 18 provisional patents and other proprietary trade secrets. BOA Endure, the rapid sodium replenishment solution, is certified by the global NSF Certified for Sport® Program. To learn more about BOA Nutrition or BOA Endure, visit boablast.com and follow on Facebook, Instagram, LinkedIn and Twitter.
Media contact:
Charles Upchurch
(919) 395-1588
cupchurch@fwv-us.com
# # #