Blueseventy Named As Official Wetsuit Partner of Super League Triathlon's 2023 USA Events
May 17, 2023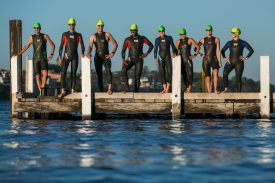 /ENDURANCE SPORTSWIRE/ – Super League Triathlon can today announce Blueseventy as the Official Wetsuit Partner of its 2023 USA events.
Blueseventy will partner with SLT across its three races in North America – the Malibu Triathlon, Chicago Triathlon and New York City Triathlon.
SLT acquired the Chicago and New York City Triathlons earlier this year and Blueseventy will become the exclusive wetsuit provider and produce swim caps for participants in each of the events in 2023.
Matt Caren, Commercial Director at Super League Triathlon, said: "I am delighted to be able to announce this partnership with Blueseventy. Like the Malibu, New York City and Chicago Triathlons, Blueseventy has an incredible history and heritage in the sport and are synonymous with supporting triathlon participants around the world. They are a perfect fit as we expand our footprint and mass participation offering in North America."
John Duquette, Blueseventy CEO, said: "I couldn't be more excited to be working with Super League and these three iconic races. The New York City Triathlon, Chicago Triathlon and Malibu Triathlon represent everything that we love about the sport. They have a rich history, are held in iconic locations and because they are so beginner friendly they are an introduction to this wonderful sport for thousands of triathletes. I'm looking forward to working with the crew at Super League and meeting athletes at these quintessential events."
ENDS