BikeFlights Introduces New Bike Shipping Boxes
April 7, 2022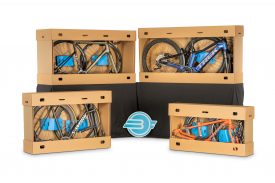 More sizes to fit more bikes and an even better design
PORTLAND, OR (April 7, 2022) /ENDURANCE SPORTSWIRE/ – BikeFlights, a bicycle shipping service and supplier of bike boxes, is pleased to introduce its new line-up of BikeFlights Bike Shipping Boxes. After years of development, testing and continued improvements, BikeFlights now offers four patented bike shipping boxes engineered to give cyclists the best shipping experience for shipping kids, road, gravel, mountain or e-bikes. There's even a box for road, gravel and aero bikes with integrated bars and stems.
"We wanted to make our best-selling BikeFlights Bike Shipping Boxes even better," said William Alcorn, BikeFlights President. "They're now more durable, easy-to-pack and come in four sizes to fit more bikes."
In 2016, BikeFlights launched its original bike shipping box, a clamshell-style design available in a single size. Four years later, in 2020, came a completely new top or side-loading design in two sizes; it was the first ever bike shipping box tested to the ISTA 6A standard. The popularity of this most recent box far exceeded expectations.
In expanding its box lineup to four sizes, BikeFlights took the opportunity to refine its proven box design. The company collected input from users who had collectively logged thousands of shipments with the previous generation of boxes then made a few design updates thanks to their feedback.
"We talked to individual customers, bike shops, event organizers and carrier drivers to learn what would work better for them," said Alcorn. "We listened to them, then incorporated their feedback to improve overall shipping performance."
What resulted are boxes that are easier to handle. They just feel better when you pick them up after BikeFlights added more rugged four-ply handholds and improved their placement. New pinch clips also now hold the boxes together without packaging tape. The clips are more robust than the previous versions, while also being biodegradable. And last but not least, a new patent-pending splined dropout spacer that fits nine different fork and frame dropout sizes reduces the amount of plastic used in the essential packing materials kit that comes with each box.
BikeFlights Bike Boxes are made in the U.S. They are designed for at least two shipments and can be recycled at the end of their life.
All four box sizes are available effective immediately in BikeFlights online store. MSRPs are, respectively, $99.95 (Small), $109.95 (Medium), $119.95 (Large) and $129.95 (Extra Large). Direct-to-consumer shipping within the contiguous U.S. is included in the pricing. Boxes typically deliver within 1-3 business days, depending on customer location.
What's noteworthy during a time when most prices are increasing is that the BikeFlights Bike Bike Medium and Bike Box Small have both decreased in price thanks to design, manufacturing and operational improvements made to lower overall costs.
Wholesale pricing is available, and bulk box pricing will be available soon. Contact partners@bikeflights.com with inquiries.
Get more information and order BikeFlights Bike Shipping Boxes. To get started shipping your bike, go to BikeFlights.com. To stay up to date on all BikeFlights.com happenings, follow the BikeFlights blog at Blog.BikeFlights.com.
VIDEOS
BikeFlights Bike Boxes Intro video (https://youtu.be/c17ConQFj4U) about the new BikeFlights Bike Boxes. It tells the story of the design and development of BikeFlights' newest bike boxes.
One-minute box introductory videos include the following:
Box Assembly video https://youtu.be/wXBIJ6cHod0 – Learn how to assemble your BikeFlights Bike Box. (Note: This video is from 2020. A version featuring our 2022 boxes is coming to our YouTube channel soon!)
ABOUT BIKEFLIGHTS.COM
BikeFlights.com is an easy-to-use bicycle shipping service and a supplier of easy-to-pack bike shipping boxes. You get low costs, preferred handling and on-time delivery with every shipment as part of our Best Way Guarantee. Join the over one million served – including individuals, bike shops, events and cycling industry businesses – who have used BikeFlights to ship their bikes, wheels, and gear with confidence since 2009. Our advanced online platform enables e-commerce and near real-time monitoring of shipments from pickup to delivery.
For more information, visit www.BikeFlights.com.