Bikeflights Expands Buck Up For Bikes
August 2, 2023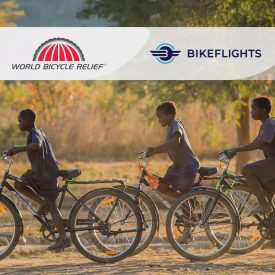 World Bicycle Relief Joins Successful Giving Program
PORTLAND, OR (August 2, 2023) /ENDURANCE SPORTSWIRE/ – Bikeflights, a bicycle shipping service trusted by riders worldwide, is pleased to announce the addition of World Bicycle Relief to its Buck Up For Bikes program. Since its launch in 2016, Buck Up For Bikes has raised more than $120,000 for non-profit cycling organizations.
"The work that World Bicycle Relief does in using bicycles to change lives fits perfectly with the mission of our Buck Up For Bikes program to get more people on bikes and support the future of cycling," said Sue George, Vice President of Bikeflights. "As we grow Bikeflights and serve more international bike shipping customers, we're excited to expand Buck Up For Bikes to benefit more people around the globe."
World Bicycle Relief empowers people and communities through life-changing bicycles. Equipped with a purpose-designed Buffalo Bicycle from World Bicycle Relief, individuals in low-income regions can access education, markets, health facilities and vital services they need to thrive – becoming a force for change and creating opportunities for themselves, their families and entire communities.
"We are so excited to join the successful Buck Up for Bikes program with BikeFlights," said Claire Geiger, Director of Global Partnerships. "Their incredible commitment to helping get more people on bikes is aligned with World Bicycle Relief's mission, and the support from this program will help individuals and communities in rural regions of the world thrive with access to life-changing bicycles."
World Bicycle Relief joins a roster of existing Buck Up For Bikes beneficiaries including Trips For Kids, the National Interscholastic Cycling Association, the International Mountain Bike Association and Little Bellas.
Everyone who ships with Bikeflights has the opportunity to Buck Up For Bikes. Customers are given the option to contribute a buck (or more!) at checkout. Bikeflights collects and covers the costs of processing donations, making sure that every dollar donated goes directly to the partner organizations. They also cover all costs of administering and publicizing the program.
World Bicycle Relief was also named the official charity of the 2023 UCI World Cycling Championships, featuring 13 different world championship events on August 3-13, 2023 in Glasgow, Scotland.
Visit https://www.bikeflights.com/buckupforbikes for more information about Buck Up For Bikes.
About Bikeflights.com
Bikeflights is the best bicycle shipping service, trusted by riders worldwide. We offer faster shipping, dedicated support and premium protection at less cost so that you can ship the best way, guaranteed. Join over one million served —including individuals, bike shops, events and cycling industry businesses— who have used Bikeflights to ship their bikes, wheels, e-bikes and gear with confidence since 2009.
For more information, visit https://www.Bikeflghts.com.
About World Bicycle Relief
World Bicycle Relief mobilizes individuals and communities in rural regions around the world to thrive with life-changing bicycles. We believe that two wheels can open a new world of possibilities – especially in places where access to reliable transportation is a luxury. By combining a purpose-designed Buffalo Bicycle with community-led programming and social enterprise, students, community service providers, farmers and entrepreneurs can improve their access to education, healthcare and economic opportunities. World Bicycle Relief aims to reach 1M bikes distributed and 5M individuals empowered by 2025.
For more information, visit https://WorldBicycleRelief.org.