BikeFlights Announces 2023 Brand Ambassadors
February 8, 2023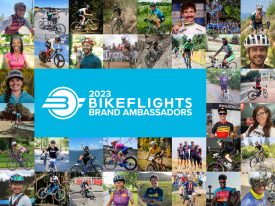 Program supports 36 individual cyclists and two teams
PORTLAND, OR (February 8, 2023) /ENDURANCE SPORTSWIRE/ – BikeFlights, a bicycle shipping service and bike box supplier trusted by riders worldwide, is pleased to introduce its 2023 Brand Ambassadors and Sponsored Teams.
"All year long, our BikeFlights Brand Ambassadors inspire us with all that they do on and off a bike," said Sue George, Vice President of BikeFlights. "For 2023, we're welcoming 36 amazing individuals and two fantastic teams to represent BikeFlights in their communities and wherever they go ride and race. We can't wait to see what they get up to this year."
"What I love about BikeFlights is the stress-free process and assurance I get from knowing my bike or equipment will make it to my destination on time and safely," said returning BikeFlights Brand Ambassador Kyle Trudeau.
New BikeFlights Brand Ambassador Maria Doering said, "I love the flexibility that BikeFlights gives me and that I am able to plan ahead when to ship my bike."
Launched eight years ago in 2015, the BikeFlights Brand Ambassador program continues to make it easy for Ambassadors to ship their bikes, wheels and gear, whether they are traveling with their bikes or shipping bike-related gear they've just sold online. In exchange, Brand Ambassadors help spread the word about BikeFlights.
Long-time BikeFlights Brand Ambassador Ashton Lambie said, "Using BikeFlights is so easy. I can select a pickup to avoid having to drop off large boxes, and I can also send folks labels easily for them to ship to me."
Returning BikeFlights Brand Ambassador Caleb Swartz said, "As a privateer I am in charge of a tremendous number of logistics. There are so many moving parts to my program, and I am constantly moving around equipment for races and training camps. BikeFlights makes it so easy and affordable to plan ahead. This reduces stress and it saves me innumerable headaches."
"Our Ambassador program consists of riders of all ages and levels of experience from grassroots to pro," said George. "We're proud to support ambassadors who are gravel riders, mountain bikers, road riders, trackies, triathletes and cyclocrossers of different races, ethnic backgrounds, ages, genders and locations."
BikeFlights Brand Ambassador Diana Hildebrand, who has taught both adults and youth how to ride a bicycle, said, "I love that BikeFlights offers safe traveling for bicycles, supports various organizations and offers ambassadors opportunities."
"BikeFlights provides a wonderful tool for shipping bikes and gear, but the BikeFlights family is one that cares about each other and their customers," said returning BikeFlights Ambassador Rose Grant, a mom and recently retired pro racer. "I have really loved being a part of this community."
Expect to see BikeFlights Brand Ambassadors in action at national caliber events like The Mid South, the Sea Otter Classic, Unbound Gravel, the Leadville MTB Trail 100, Rebecca's Private Idaho and Big Sugar as well as many more events in their local communities and beyond. You'll also often see them out pedaling on their favorite local roads and trails.
Individuals
Abe Alkhamees (Kuwait City, Kuwait)
Alex Kang (Newark, CA)
Alexey Vermeulen (Boulder, CO)
Andreas Drekonja (Minneapolis, MN)
Annie Davis (Bentonville, AR)
Ashton Lambie (Houston, TX)
Caleb Swartz (Missoula, MT)
Diana Hildebrand (Cleveland, OH)
Emmett Culp (Portland, OR)
Enzo Moscarella (Queens Village, NY)
Eric Brunner (Boulder, CO)
Garrett Bonenberger (Knoxville, TN)
Jake Wells (Avon, CO)
Jessica Brunson (Fort Worth, TX)
Justin Hanneken (North Fort Myers, FL)
Kait Boyle (Victor, ID)
Kecia McCullough (Rochester, NY)
Kelly Freire (Miami, FL)
Kenneth Oladapo (Atlanta, GA)
Kyle Trudeau (Tucson, AZ)
Lauren Thrailkill (Coatesville, PA)
Layla Doman (Washington, DC)
Lindsey Richter (Bend, OR)
Lisa Gillespie (New York, NY)
Liza Rachetto (Boise, ID)
Maria Doering (Banner Elk, NC)
Noah Hayes (Santa Barbara, CA)
Rebecca Rusch (Ketchum, ID)
Rose Grant (Columbia Falls, MT)
Sam Coyle (San Luis Obispo, CA)
Sara Lim (Seattle, WA)
Sarah Bowman (Los Angeles, CA)
Starla Teddergreen (Longmont, CO)
Sydney Wenger (Roanoke, VA)
Tina Beecham (Cibolo, TX)
Tsitsi Merritt (New York City, NY)
Teams
Bear Development Team (including Riders: Alyssa White, Andie Aagard, Austin Beard, Bailey Cioppa, Bayli McSpadden, Benjamin Crismon, Brady White, Brayden Johnson, Brynnlie Aagard, Carson Hampton, Cayden Parker, Charlotte Philkill, Chloe Fraser, Cobe Freeburn, Daniel English, Daxton Mock, Ethan Blocker, Ethan Shirey, George Frazier, Hayley Ballard, Ian Brown, Jack Spranger, Kaya Musgrave, Kellie Harrington, Kira Mullins, Landen Stovall, Lasse Konecny, Lauren Lackman, Leo Gutierrez, Liam Baartman, Luke Mosteller, Mike Ziomek, Miles Mattern, Nathan Dutton, Nico Konecny, Noah Spangenberg, Paige Edwards, Raulito Gutierrez, Robbie Day, Ruth Holcomb, Tai-Lee Smith and Vida Lopez de San Roman; and Team Managers & Staff: Julia Violich, Jason Jablonski, Julien Petit and Nik Johnson)
Maxxis Factory Racing Team (including Riders: Andrew L'Esperance, Colton Peterson, Elizabeth (Lia) Westermann and Haley Smith; and Team Manager Drew Esherick)
The BikeFlights Brand Ambassador program is full for 2023. Applications will be accepted for 2024 starting sometime in October 2023. Stay tuned to BikeFlights e-newsletter, social media and blog for details about when and how to sign up.
For more information about BikeFlights.com's 2023 Brand Ambassadors, visit Bikeflights.com/ambassadors. To get started shipping your bike, go to BikeFlights.com. To stay up to date on all BikeFlights.com happenings, follow our blog at Blog.BikeFlights.com.
ABOUT BIKEFLIGHTS.COM
BikeFlights is an easy-to-use bicycle shipping service trusted by riders worldwide. We offer low costs, expert monitoring, premium protection, on-time delivery, excellent service and a carbon offset with every shipment so you get the best bike shipping experience, guaranteed. Join the over one million served – including individuals, bike shops, events and cycling industry businesses – who have used BikeFlights to ship their bikes, wheels, and gear with confidence since 2009.
For more information, visit www.BikeFlights.com.