Bike Club's Build-Your-Own Avatar program opens up unlimited possibilities for cyclists & brands
July 27, 2022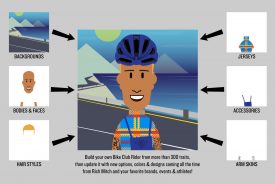 No longer limited to a 10K collection, Bike Club will be open to every cyclist in the world
/ENDURANCE SPORTSWIRE/ – Bike Club opens up unlimited participation with their new Build-Your-Own avatar program, letting cyclists create their own Rider and giving brands unprecedented marketing opportunities.
Traditional NFT projects use randomized art, which was Bike Club's original plan, using characters created by world-renowned cycling artist Rich Mitch. But that method limits participation to a small number of people, so the project has shifted to an unlimited mint with customizable avatars.
"We wanted every cyclist in the world to be able to participate in Bike Club," says project manager and co-founder Tyler Benedict. "And we want every cyclist to feel truly represented by their Rider avatar, so we are giving them the ability to design their own in their likeness…or however they want to look!"
"Even better, we're no longer limited to a 10k collection, and members are able to build their Rider using character art from Rich Mitch, which is like getting a personalized avatar from a top artist!"
How Bike Club's BYO program works
Cyclists will be able to choose from a wide variety of skin tones, hairstyles and colors, and facial features, then mint their creation as their Bike Club Rider with a transparent background and plain jersey.
After that, they can add jerseys, helmets, sunglasses, accessories, and backgrounds onto their Rider, letting them customize the look.
"Because each of those traits and backgrounds are separate layers, held as unique NFTs, each can hold its own utility and benefits," explains Benedict. "Members can update their Rider's look anytime they want by adding new layers and swapping them out inside our Dashboard."
"This lets our members collect new jerseys, helmets, backgrounds, and more and hold them in their NFT collection, thereby accumulating more benefits from the artists, athletes, influencers, and brands that issue them.
A Powerful Marketing Tool for Brands
The Build-Your-Own program offers major advantages to brands, too.
"Let's say an event drops a commemorative background NFT to participants and those members update their Rider with it," Benedict says. "Then they use that as their social media profile pic, it becomes a powerful marketing tool."
"But that's just the beginning. The event can give those NFT holders early registration access, VIP perks, insider information, or private merch sales, which adds value for the Bike Club member. More importantly, it opens up a communication channel for enhanced customer engagement and rewards your best, most active fans and customers."
Other examples include cycling kit brands issuing a matching jersey NFT to their customers, or bike brands offering a branded item that grants early entry to demo events. The possibilities are limitless, and with the ability to collect, trade, and sell them individually, Bike Club members are able to create value by finding the items that are meaningful to them.
Several brands and events are already signed on to drop special items when Bike Club starts minting, and they are in active dialogue with some of the biggest bike and component brands in the world to grow that list.
It Pays to Be Early
Bike Club will issue an extremely limited number of "Lead Out" traits for their core community and early fans, which will offer future perks and benefits that will never be available again.
They are working with their brand partners, artists, and athletes to develop a massive collection of layers that will drop at launch. Some will be super rare and come with huge benefits, and their Discord community and Brand Partners will have early access.
"Ultimately, this design lets us give every cyclist the chance to join Bike Club, and gives every brand an easy on-ramp into WEB3 and using NFTs as a powerful marketing tool inside an established global community of passionate cyclists."
Join in and learn more at BikeClub.io and join their Discord at discord.gg/jqt43UQMQG.
– 30 –
Media Contact: press@bikeclub.io – Images and assets available upon request.