Bike Club to host legendary bikepacker Josh Ibbett for live AMA
April 8, 2022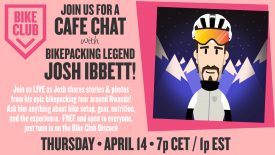 Ibbett will share photos and stories from his four week adventure, including the 1000km Race Around Rwanda
/ENDURANCE SPORTSWIRE/ – After completing a bikepacking tour around Rwanda, Josh Ibbett has joined Bike Club as their newest ambassador.
To welcome him, they're hosting a live Cafe Chat where Ibbett will share photos and stories from his adventure, talk about his bike and gear setup, and answer questions from the community.
Ibbett has been in the cycling industry for 20+ years, starting out racing XC and then quickly getting into 12/24 hour races, marathons, and multi-day stage races. He's topped a few podiums, too, winning the 2015 TransContinental Race and 2020 GBDuro, as well as finishing the Tour Divide.
His most recent adventure was the 1000km Race Around Rwanda, where Ibbett piggybacked the Rwanda MTB Epic and some filming for a four-week trip.
Scheduled for Thursday, April 14, at 7pm CET (1pm EST), everyone in attendance will be able to ask Josh anything about his trip, gear, and more!
The event is free and open to everyone and will be hosted on Bike Club's Discord server, which is also free to join at https://discord.gg/jqt43UQMQG
Bike Club is building the world's largest cycling club, creating unprecedented access for riders everywhere to meet and interact with brands, athletes,industry leaders and a global community of riders. It's free to join, and open to every rider, everywhere. Learn more at BikeClub.io.
-30-
PRESS CONTACT:
Socials: