BibRave To Launch American Bike Ride Ambassador Program
May 31, 2023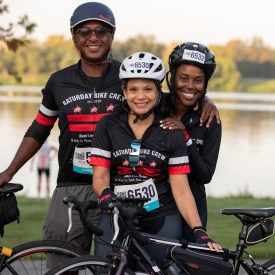 The influencer marketing agency joins forces with American Bike Ride to support marquee events, DC Bike Ride and Philly Bike Ride
Honolulu, HI /ENDURANCE SPORTSWIRE/ – BibRave, the leading-edge endurance and fitness marketing agency, is thrilled to announce its partnership with American Bike Ride (ABR) in launching the highly-anticipated Joy Riders Ambassador Program. This program aims to amplify excitement and engagement surrounding the ABR's flagship events – DC Bike Ride & Philly Bike Ride – and create buzzworthy brand awareness for potential market growth across the United States. BibRave will foster a brand "community" by managing 2 cohorts for each market in one shared digital space – connecting these influencers to each other and motivating them to inspire their audiences to ride.
American Bike Ride strives to inspire individuals to embrace the joy of biking while promoting a healthier and more sustainable lifestyle. Through their annual events like the DC Bike Ride, they create a unique opportunity for riders to explore the iconic landmarks of Washington, D.C. on car-free roads, thereby fostering a sense of unity and camaraderie among participants and removing barriers to participation through "Rent & Ride" options for day-of event bike rentals. By advocating for bike safety and supporting local charitable causes, ABR aims to make a positive impact on the community and encourage a lifelong love for cycling.
"The Joy Rider Ambassadors will play a pivotal role in promoting enthusiasm for our diverse range of participants across our marquee events," said Chris Browne, Managing Director of American Bike Ride. "With DC Bike Ride and Philly Bike Ride, our events uniquely showcase the iconic nature of both cities and epitomize the vibrancy and inclusivity of the biking community, but also invite new riders to fall in love with cycling through the lens of car-free riding experience. We are delighted to partner with BibRave to establish, expand, and bring joy to this influential group of community members!"
Applications for the "Joy Riders" recently closed, and BibRave is working with ABR to evaluate and finalize the community. Once the group is set, the ambassadors will receive their "Joy Rider kits," complete with branded t-shirts, cycling socks, and other special perks to help them spread the word about ABR's events. Members will also receive complimentary entries to all ABR events.
"The American Bike Ride events serve up an amazing and unique experience for all those looking for an active lifestyle and a little fun on two wheels," said Andy Wallace, V.P. of Programs & Partnerships at BibRave. "We're stoked to roll out this community and start to build the love around these inclusive and exciting rides!"
About American Bike Ride
American Bike Ride, LLC is a leading organizer of iconic cycling events in the United States. With flagship events including DC Bike Ride and Philly Ride, the company aims to promote active lifestyles, community engagement, and the exploration of American cities' cultural and historical significance. American Bike Ride, LLC is committed to creating unforgettable experiences that prioritize safety, sustainability, and inclusivity for riders of all ages and abilities. For more information, visit www.dcbikeride.com or www.phillybikeride.com.
About BibRave
BibRave is an influencer and experiential marketing agency that specializes in fitness, outdoor, and lifestyle verticals. With 10 years' experience building and managing influencers and ambassador communities for large and small companies, BibRave brings a team of strategic social media, creative, and online community-focused experts.
BibRave also crafts bold and memorable experiences, developing creative events and in-person activations, managing ideation, project management, procurement, execution, and inter-agency coordination.
Lastly, BibRave leverages our own large network of social media influencers – the BibRave Ambassadors – to drive more race registrations and product sales for our event and brand partners.