BibRave Brings A Record Number of Santas to Pacific Beach for the 2022 San Diego Santa Run
December 21, 2022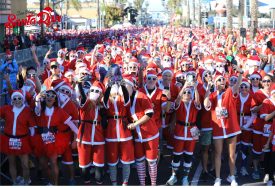 BibRave provided comprehensive marketing services for this event
Honolulu, HI /ENDURANCE SPORTSWIRE/ – BibRave, the leading-edge endurance and fitness marketing agency, recently partnered with the San Diego Running Co. (SDRC) to provide comprehensive marketing services and complete digital media management for the San Diego Santa Run leading to a record number of participants for this annual event.
SDRC is a staple of the San Diego running community, offering a number of races throughout the year including the San Diego Resolution Run, San Diego Leprechaun Run, America's Finest Corporate Dash 5K, the Balboa Park 8-Miler hosted by the San Diego Track Club, and the Pacific Beach Half Marathon & 5K.
"For the 10th year of the Santa Run, we turned to BibRave to help us manage our social media and email marketing for this event," said Eric Marenburg, Chief Running Officer and Co-Founder of the San Diego Running Company. "BibRave helped us reach sell-out numbers and bring a record number of Santas to the streets of Pacific Beach. They were also critical in taking marketing elements off of our plates so that we could focus on building a great event."
BibRave developed and executed the digital marketing strategy to promote the Santa Run which included social media execution and engagement, email management, and race registration analysis.
"San Diego Running Company consistently brings their participants a stellar lineup of running events," said Andy Wallace, V.P. of Programs & Partnerships at BibRave. "We're thrilled to partner with them to help them reach a record number of registrations for the Santa Run as well as several of their other events in 2022."
The San Diego Santa Run was held on December 10, 2022 in San Diego, California. The event was a smashing success, selling out even in a year of tumultuous and tentative race registrations.
About San Diego Running Co.
San Diego Running Co. is a San Diego-based race management company dedicated to bringing the San Diego community together through unique, memorable running events. They own and manage events throughout San Diego including San Diego Resolution Run, San Diego Leprechaun Run, America's Finest Corporate Dash, Balboa Park 8 Miler, Pacific Beach Half Marathon & 5K and San Diego Santa Run. Each year, they welcome over 20,000 runners to their starting lines while raising over $300,000 of income annually for local community non-profits. To learn more about San Diego Running Co., visit: https://sandiegorunningco.com.
About BibRave
BibRave is a marketing agency that specializes in fitness and endurance sports. With 10 years' experience building and managing ambassador communities for large and small companies, BibRave brings a team of social media, creative, and online community-focused experts.
One of BibRave's key strengths is developing creative event and in-person activations, managing ideation, project management, procurement, execution, and inter-agency coordination.
Lastly, BibRave has its own large network of social media influencers called the BibRave Ambassadors, which it leverages to drive more race registrations and product sales for the company's event and brand partners.