BibBoards Offers A Safer Solution For Events than 100 Year Old Technology
March 16, 2022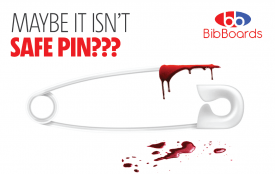 BibBoards Offers A Safer Solution For Events than 100 Year Old Technology
 /ENDURANCE SPORTSWIRE/ – After any good race, the ground is littered with paper cups, shredded bibs, and plenty of unidentified pieces of trash, waiting for the amazing volunteers to come through and clean up. While most race volunteers have a love for the sport and don't mind scooping up the mess left behind from all the festivities earlier in the day, getting their fingers pricked by a bunch of safety pins might make them feel differently.
Not only can the safety pins used to fasten race bibs to athletes cause irritation by poking or rubbing race participants, but they can pose a great danger to race volunteers and have long-lasting impacts on the environment.
"Safety" Pins is Misleading
Getting poked and scratched by safety pins is an experience of commonality amongst participants, but if these items get in the hands of children or babies, they can cause serious damage. Safety pins can wreak havoc on humans and can also have massive implications on the surrounding environment, including birds and animals that call the race area home.
Outdoor races should show an appreciation for the environment. We should show our thanks to the earth by not filling it with non-biodegradable items that, if ingested by animals, can cause serious injury. Participants need to come together and make this small change; it's simple as can be with an alternate solution like BibBoards.
What are BibBoards 
This snap and lock device are made to be simple and effective. They are made to fasten race bibs to all types of fabric over and over again! BibBoards are reusable and built to last out of recyclable nylon plastic, making these the best option to care for the earth while enjoying the sport! Not only will BibBoards add comfort to every participant experience, but they can also be customized to showcase sponsorships, companies, or a design of your choice!
As an added bonus, BibBoards have been certified as Prop 65 compliant, meaning they do not have harmful levels of chemicals in them. We did our best to make BibBoards something that every runner will want, and that every race will want to provide.
Races Should Make the Switch
Instead of spending exorbitant amounts of money on swag bags that people don't use, take a portion of that money to offer racers BibBoards with each entry. BibBoards will come in handy again and again, in every race or competition setting. If you are a race director who opts to make the switch, your race can set the bar for sustainability while your brand goes from race to race with every competitor that has BibBoards with your logo on them. It's an investment for you and an investment for the earth.
BibBoards are Here to Stay
It's only a matter of time before racers start demanding sustainable solutions from the events, they participate in. People who spend a lot of time in nature, such as runners, are the same people who care about preserving nature for generations to come. Visit our website today to look at custom design options or reach out to our team to discuss a bulk order. We look forward to working with you to make the world of racing greener and cleaner!