Best Bike Split and EF Education-EasyPost Partner for the 2022 Season
March 10, 2022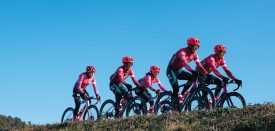 Best Bike Split and EF Education-EasyPost Pro Cycling are proud to announce partnership.
Austin, TX /ENDURANCE SPORTSWIRE/ – Best Bike Split, the creator of pacing optimization software that helps cyclists get from point A to point B as fast as possible, and EF Education-EasyPost have announced that they will renew their partnership for the 2022 season with Best Bike Split continuing to be the exclusive race-pacing software supplier for the team.
EF Pro Cycling has used Best Bike Split over the past two seasons to give their athletes an extra edge in the time trial, an event in which every second counts. "We use BBS for all pre- and post TT analyses. The riders like to have reliable targets, and the power strategies really help them to focus more on key sections. With the post TT analyses, we are able to track aerodynamic efficiency per section," said Peter Schepp, head of performance.
Beyond a time-trial focus, BBS is expanding its feature set with the help of EF Pro Cycling. The focus of these updates will be enhanced post-race-day analytics, optimizing for new types of races, and bolstering its API currently in use by multiple teams and industry partners, including fellow EF sponsor Wahoo Fitness.
"EF Education-EasyPost represents a fantastic opportunity for us to continue to support cycling at the highest WorldTour level, but starting in 2022, we will also help with their growing Alternative Racing program," said BBS President Rich Harpel. "As we look to expand Best Bike Split into mountain, gravel, and long endurance racing, we are incredibly excited to support the team and leverage their expertise to refine our models and software."
The partnership between Best Bike Split and the team is part of an ongoing effort of BBS to support teams and athletes at the highest level in addition to helping every cyclist and triathlete achieve their best split on race day.
About Best Bike Split
Best Bike Split is an online platform built for cyclists and triathletes who race and train with power meters. The underlying technology that drives Best Bike Split lets you predict race times, plan optimal race strategy and execute the perfect race plan on the big day. The software is used by Tour de France teams, IRONMAN® world champions, Olympic gold medalists, age group athletes, and coaches worldwide to plan, train and race.
For more information, visit Best Bike Split or follow us on Facebook or Twitter.