Bears, moose, mud, nasty bushwhacking – Teton Ogre's ninth edition gets dirty
July 20, 2023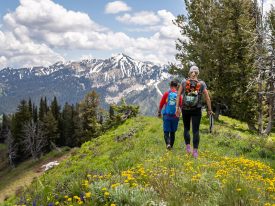 The ninth edition of the Teton Ogre Adventure Race took place June 24-25 in beautiful Teton Valley, Idaho.
/ENDURANCE SPORTSWIRE/ – The ninth edition of the Teton Ogre Adventure Race took place June 24-25 in beautiful Teton Valley, Idaho, on the west side of the Teton range.
The Ogre offers a 24-hour race as well as an 8-hour option. Racers must use map and compass to navigate via bike or on-foot to both mandatory and optional checkpoints, and the winning teams will be those that find the most checkpoints without going over the time limit.
In the 24-hour race, Bend Racing was first place mixed-gender team and also took first place overall, clearing the course – obtaining all 260 available points – in 21:08.
Utah Yeti won the open division and finished second place overall, nabbing 220 points in 22:35, and Goat Flock finished third overall with 180 points in 22:10.
In the 8-hour race, The Streublewskis won the two-person male division and finished first overall, clearing the course with 150 points in 6:38. Ornery Bear, a mixed-gender two-person team, finished 13 minutes later in 6:51, also having cleared the course, and another two-person mixed-gender team, Sasquatch, finished third overall, clearing the course in 6:58.
"Every year's course has a different 'flavor,' and this course was especially spicy, with lower-than-typical mileage but very rugged terrain and huge amounts of elevation gain. As a result of high water, we had to cancel the short paddle leg altogether, but as a result things got even wilder. Bears, moose, mud, nasty bushwhacking…you name it!" Race Co-Director Abby Broughton said. "Teams' hard work was be rewarded with sweeping views of the Tetons and fields of wildflowers, not to mention some amazing singletrack descents!"
As a 2023 USARA Regional Championship, the winning premier-division team in the 24-hour race – a mixed-gender team containing three or four teammates – won free entry to this year's U.S. Adventure Racing Association National Championship, taking place September 15-16 at Smugglers' Notch, Vermont. The 2023 Teton Ogre was also part of the Adventure Racing World Series North American Circuit, offering qualifying teams a chance to win a free spot at the 2024 Adventure Racing World Championship in Ecuador in 2024.
"All teams did amazingly, with lots of smart choices made out there and lots of pushing through the fatigue as they were met with seemingly endless elevation gain!" Broughton said. "Big thanks to everyone who came out to race, volunteer, and make the Ogre happen!"