Bearclaw Bicycle Co. Named 'Ultra Series' Sponsor for 2022 Michigan Gravel Race Series
November 18, 2021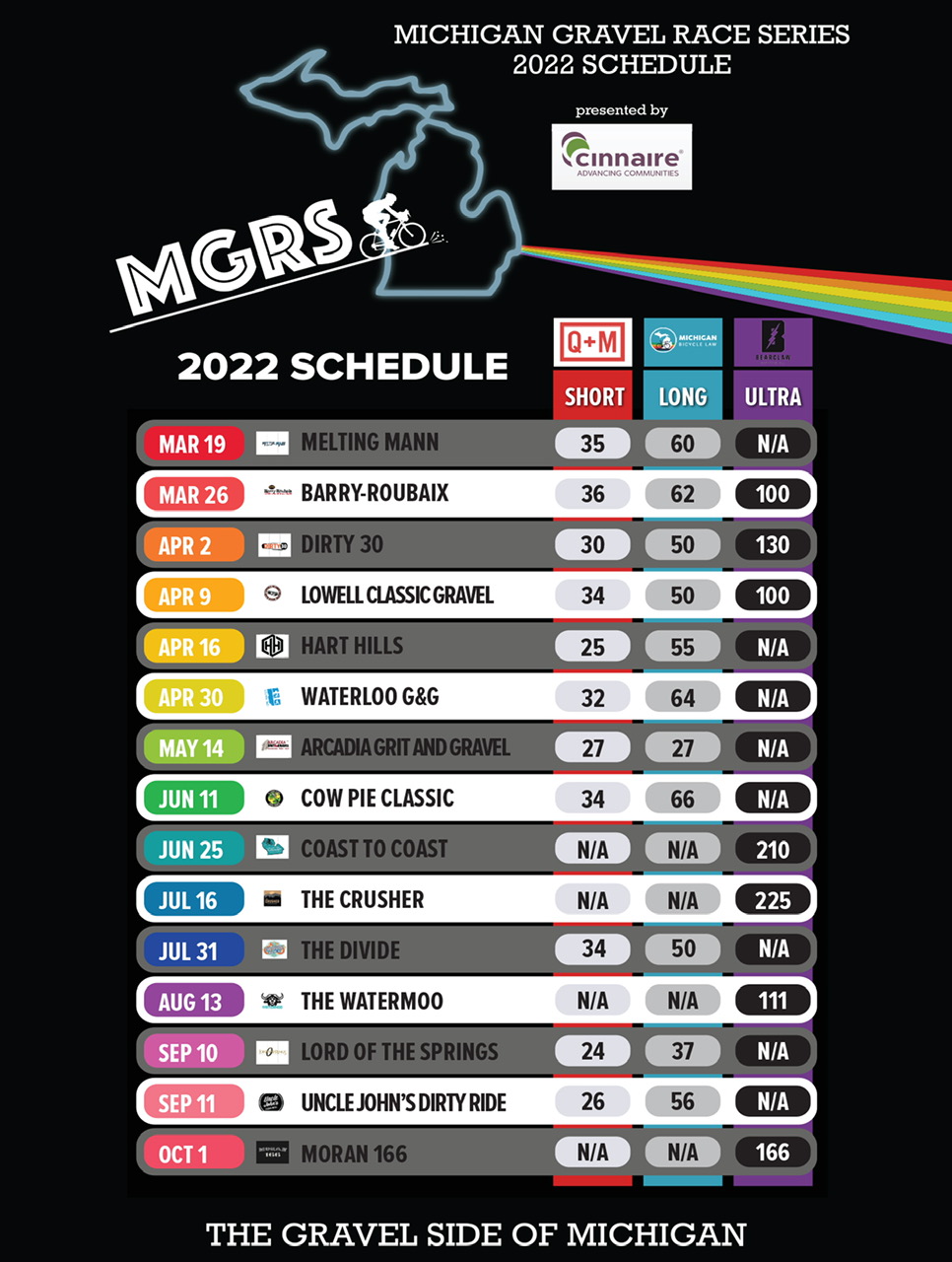 /ENDURANCE SPORTSWIRE/ –As part of the upcoming 2022 Michigan Gravel Race Series (MGRS), Bearclaw Bicycle Co. has renewed its sponsorship for the second year running as the official Ultra Series sponsor.
The Bearclaw Bicycle Co. Ultra Series includes seven 100+ mile gravel bike races among the 15 events within the MGRS. Among those seven races is Bearclaw's very own event, the second annual Moran 166, which will be the series finale taking place on October 1, 2022, in the small village of Moran located in Michigan's Upper Peninsula.
Bearclaw Bicycle Co. Ultra Series Calendar for 2022
The full calendar for the 2022 Ultra Series includes:
Barry Roubaix (100 miles) on March 26th
Dirty 30 (130 miles) on April 2nd
Lowell Classic Gravel (100 miles) on April 9th
Coast to Coast (210 miles) on June 25th
The Crusher (225 miles) on July 16th
The Watermoo (111 miles) on August 13th
Moran 166 (166 miles) on October 1st
The biggest change from this past year's 2021 calendar is Bearclaw's decision to retire its early June gravel bike race known as the Sancho 200, which started and finished in Traverse City. As ultra-distance athletes say goodbye to the tough 200-mile course, they embrace a much flatter, fast-paced season finale, the Moran 166, which serves as its welcomed replacement.
MGRS Gravel Scholarship
In addition to being the MGRS Ultra Series sponsor, Bearclaw Bicycle Co. has also donated one Thunderhawk titanium gravel frame and gravel fork for the MGRS gravel scholarship.
This unique scholarship opportunity is designed for athletes who display a passionate interest in pursuing gravel bike racing and taking part in the MGRS but lack the financial resources to afford a gravel bike and the cost of entry for certain races.
While the 2022 Gravel Scholarship details are still being hashed out by the MGRS team, qualified applicants can expect the following goods as part of the reward:
Complimentary entry into the Michigan Gravel Race Series
Complimentary entry into four (4) MGRS gravel bike races
Brand New Bearclaw Thunderhawk Frameset (titanium gravel bike frame and titanium gravel fork)
Velocity USA wheels and Panaracer tires
Water bottle cages and two water bottles
A pair of cycling shorts, cycling jersey, and cycling socks
Saddlebag, tube, pump, and multi-tool repair kit
Hammer Nutrition products to keep you fueled for training and racing
Bike wash, chain lube, and cleaner products
Orange Mud hydration pack
The reward details for the 2022 Gravel Scholarship are subject to change. The scholarship winner is asked to complete at least four MGRS races, share a few photos, write a handful of short blog posts about their experience.
More About the 2022 Michigan Gravel Race Series
Bicycle riders of all calibers are encouraged to check out the many open events on the 2022 Michigan Gravel Race Series calendar. Several events will host multiple distances, with options as short as 24 miles. There's truly a race for everyone.
While the MGRS tracks points for those involved in the series, racers are welcome to join any event they'd like with no commitment. The first event in the series, Melting Mann, kicks off March 19th in southwest Michigan with a 35-mile short course and 60-mile long course option.
The 2022 MGRS is themed around the "Gravel Side of Michigan," a playful take from Pink Floyd's Dark Side of the Moon. Between being the Ultra Series sponsor and donating a Bearclaw gravel bike, the team at Bearclaw Bicycle Co. is excited to be a part of the 2022 race series.
For more information about the MGRS, visit MichiganGravelRaceSeries.com
For more information about Bearclaw Bicycle Co., visit BearclawBicycleCo.com