Be Good and Be GU'd at Sea Otter and Beyond
April 6, 2022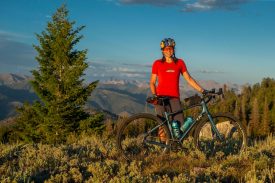 BERKELY, Calif. /ENDURANCE SPORTSWIRE/ – GU Energy Labs is thrilled to be working with the Be Good™  Foundation at the Sea Otter Classic and future events, including Rebecca's Private Idaho, during the 2022 riding season. Longtime GU Team ROCTANE Athlete and partner, Rebecca Rusch founded the Be Good Foundation to enrich communities by using the bicycle as a catalyst for healing, empowerment, and evolution.
GU Energy Labs will be raising awareness for the foundation at Sea Otter by encouraging attendees to share messages of how they plan to "be good" in 2022 and beyond. On Sunday, the last day of the event, Rusch will participate in a Q&A moderated by Elite Athlete and Community Manager, Yuri Hauswald. Sea Otter attendees will be able to submit questions for the session at the GU booth throughout the three days of the event.
Rusch created the foundation in memory of her father, USAF Navigator Captain Stephen A. Rusch, who died in combat during the Vietnam War. "My dad signed all of his letters home during the war with the same two words: 'Be Good,'" explains Rusch. "After riding the Ho Chi Minh Trail and standing in the place where he died, I heard his instructions more distinctly. He inspired me to try harder, push farther, and above all to remind myself and others that we all have unique talents that can be harnessed for the greater good. The Be Good Foundation is my way of keeping his memory alive by following his instructions and using my bicycle and my reach to help the world heal, connect and evolve one pedal stroke at a time."
Rusch has been a longtime partner of GU and the sports nutrition brand couldn't be happier to work with her furthering the foundation's message. "At its core, GU is about expanding, and fueling, human athletic potential and personal growth," says Celia Santi, Director of Community and Purpose at GU. "We have been proudly working with Rebecca Rusch, who is an embodiment of our core values, for more than a decade. We are honored to continue working with Rebecca and her foundation and can't wait to see what this next chapter in her career brings."
The Be Good Foundation is also leading a fundraising effort during the events to raise funds for the new Be Good Foundation Scholarship. All donations will be earmarked for underrepresented athletes looking to participate in Rebecca's Private Idaho, RPI Remote, and/or RPI Basecamp. Anyone can donate, whether they attend Sea Otter or not and will be entered to win a prize package including product from GU and other partners.Attendees are also encouraged to check out Rebecca's new bike she'll be showing off throughout the show – the Liv Devote – Be Good Edition – a gravel bike made in honor of the Be Good Foundation.
For more information about GU, the Be Good Foundation, and their events occurring at the 2022 Sea Otter Classic contact Danny Kuzio at dk@pressforwardpr.com.
About GU Energy Labs
GU Energy Labs helps athletes of all abilities reach their best performance with products that deliver the right nutrients, in the right amounts, at the right time. Developed in collaboration with athletes, GU has a nutrition matrix of hydration, energy, and recovery products.  Headquartered in Berkeley, GU Energy Labs produces all its energy gels onsite with solar-generated power. Recommit to becoming your best athletic self, learn more about GU products, and discover how nutrition planning can help you get there at www.guenergy.com.
About the Be Good Foundation
A father's message, a daughter's mission, and a call to action for all who desire to live with purpose, explore with passion, and create lasting change. The Be Good Foundation enriches communities by using the bicycle as a catalyst for healing, empowerment, and evolution. Learn more at https://www.rebeccarusch.com/be-good-foundation.