Barefoot Elvis Conquers His 100th Rock 'N' Roll Running Series Event at the 2023 Rock 'N' Roll Running Series San Diego
June 9, 2023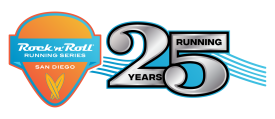 San Diego native Henry Chan, known as Barefoot Runner, has been participating in Rock 'n' Roll Running Series events barefoot and dressed as Elvis since 2013
SAN DIEGO, Calif. (June 9, 2023) /ENDURANCE SPORTSWIRE/ – Coming off a celebration weekend for the 25th running of the Rock 'n' Roll® Running Series San Diego event, 27,000 registered runners took part in the event, show casing the event is popular as ever. However, it was another milestone that was special for one participant.
This past Sunday, Henry Chan, 62, of San Diego, Calif. completed his 100th Rock 'n' Roll Running Series event when he literally toed the starting line for the half marathon, shoeless and dressed as Elvis. Also known as the Barefoot Elvis, Chan got his start in running in the late 80s while participating in triathlons with Competitor magazine founder, Bob Babbitt.
"Triathlons helped get me into barefoot running since you run barefoot in the [swim to bike] transition of the race," said Chan. "Eventually, I found I was getting injured less by running barefoot. I like feeling the ground, there's more feedback."
Chan started running barefoot in 2011 and completed his first Rock 'n' Roll Marathon in 2012. It wasn't until Babbitt encouraged him to run dressed as Elvis at the 2012 race that Chan finally decided to put on his metaphorical "Blue Suede Shoes" and run barefoot while donning the King of Rock and Roll's iconic look.
Chan elaborates, "It's an experience. Unless you have run as Elvis, you really can't understand it. Everyone is shouting out 'Elvis' and cheering you on. You are the race."
The trend of "Running Elvi" started with Babbitt at the Original Rock 'n' Roll Marathon 25 years ago, when duathlete Kenny Souza led the 1998 race dressed as Elvis in front of the elite runners, for approximately 10 seconds. That sealed the race's history as being known for "Bringing the Fun to the Run®." While the group set a record in 2008 for having 157 "Running Elvi" at the Rock 'n' Roll San Diego Marathon, Chan usually finds he is one of the only Elvis on course these days, but he doesn't mind the attention.
"I mostly reserve dressing up as Elvis for Rock 'n' Roll Running Series events," said Chan. "It's hard to not sign up for a race because it feels like people expect Elvis to be there, and that's me."
Chan started branching out from the Rock 'n' Roll San Diego race by completing races around the world through the Rock 'n' Roll Running Series' Tour Pass, which packages multiple race entries into an annual pass. In 2015 he completed 10 Rock 'n' Roll Running Series races in one year, which ultimately led him on his journey to completing 100 Rock 'n' Roll Running Series races.
"I started seeing friends who were reaching 100 Rock 'n' Roll races, and thought, 'I can do that too," said Chan excitedly. "I crunched the numbers based on the races that were available. It was important for me to have my 100th race be in San Diego where it all started for me and the series. Part of the race series that I enjoy the most is exploring new destinations through traveling to all the races around the world."
Rock 'n' Roll Running Series San Diego, the largest marathon and half marathon on the West Coast of the United States has long been a favorite stop on the best-in-class running series tour, welcoming visitors from all over to experience the ultimate tour on foot of America's Finest City. Runners and walkers alike had a tour of everything San Diego has to offer with a picturesque course, jam-packed with spectator support. The half marathon and marathon courses lead runners through some of San Diego's most iconic neighborhoods, including Balboa Park, Hillcrest, North Park, Normal Heights and more, before finishing in Downtown San Diego.
Presale registration for all distances of the 2024 edition of the Rock 'n' Roll Running Series San Diego taking place on June 1-2, 2024, is now open online through 11:59 p.m. PT on June 11, 2023. Future participants can lock in presale pricing by visiting, www.runrocknroll.com/san-diego. Special presale pricing will be at the lowest price of the year, at $85 for the Marathon, $75 for the Half Marathon, and $45 for the 5K. To register for 2024 or learn more about Rock 'n' Roll Running Series San Diego, please visit www.runrocknroll.com/san-diego.
For more information about the 2023 Rock 'n' Roll® Running Series San Diego, visit www.runrocknroll.com/san-diego. Media-related inquiries may be directed to Emily@EmilyGibbsPR.com or press@runrocknroll.com.
###
About Rock 'n' Roll Running Series
Established in 1998, the Rock 'n' Roll® Running Series' simple idea of making running fun has transformed both the U.S. and global running landscape by infusing the course with live bands, cheer teams, and entertaining water stations, creating a block-party atmosphere for participants and spectators alike. Focused on running, music and community, race weekends kick off with a free Health & Fitness Expo showcasing the latest in running gear, sports apparel, health and nutritional information and much more. Events culminate with an Encore Entertainment experience featuring eclectic musical artists from a variety of genres. With a goal of helping participants find the Beat in Their Feet™, the Rock 'n' Roll Running Series has also featured some of the biggest names in music, with past performances including the likes of Macklemore & Ryan Lewis, O.A.R., Aloe Blacc, Pitbull, Flo Rida, The Band Perry, Fitz and the Tantrums, the Goo Goo Dolls, Bret Michaels, Kesha, The Revivalists, Hunter Hayes, Capital Cities, and Matt Nathanson. Further information about the Rock 'n' Roll Running Series can be found online at www.RunRocknRoll.com and follow @RunRocknRoll on all social platforms.
About The IRONMAN Group
The IRONMAN Group operates a global portfolio of events that includes the IRONMAN® Triathlon Series, the IRONMAN® 70.3® Triathlon Series, 5150™ Triathlon Series, the Rock 'n' Roll® Running Series, IRONKIDS® Series, World Triathlon Championship Series, premier running events including the Standard Chartered Singapore Marathon™ and City2Surf®, UTMB® World Series trail-running events including the Canyons Endurance Runs™ by UTMB®, Tarawera Ultra by UTMB® and Ultra-Trail Australia™ by UTMB®, Epic Series™ mountain bike races including the Absa Cape Epic®, road cycling events including Haute Route®, and other multisport races. The IRONMAN Group is the largest operator of mass participation sports in the world and provides more than a million participants annually the benefits of endurance sports through the company's vast offerings. Catering to the full athlete experience, the company portfolio also includes FulGaz® virtual cycling, the most realistic indoor riding experience connected fitness application aimed at preparing athletes for real-world events. Since the inception of the iconic IRONMAN® brand and its first event in 1978, athletes have proven that ANYTHING IS POSSIBLE® by crossing finish lines around the world. Beginning as a single race, The IRONMAN Group has grown to become a global sensation with hundreds of events across 55+ countries. The IRONMAN Group is owned by Advance, a private, family-owned business. For more information, visit www.ironman.com/about-ironman-group.
About Advance 
Advance is a private, family-held business that owns and invests in companies across media, entertainment, technology, communications, education and other promising growth sectors. Our mission is to build the value of our companies over the long-term by fostering growth and innovation. Advance's portfolio includes Condé Nast, Advance Local, Stage Entertainment, The IRONMAN Group, American City Business Journals, Leaders Group, Turnitin, 1010data and Pop. Together these operating companies employ more than 17,000 people in 29 countries. Advance is also among the largest shareholders in Charter Communications, Warner Bros. Discovery and Reddit. For more information visit www.advance.com.