Back in Brazil: GFNY Bento Gonçalves this Sunday
October 13, 2022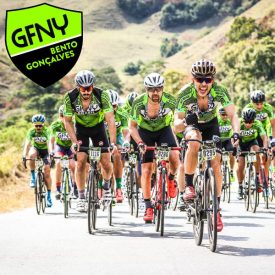 Riders will tackle almost 3000m of climbing in the heart of the Sierra Gaúcha
/
ENDURANCE

 SPORTSWIRE/ – This Sunday, GFNY Bento Gonçalves offers racers a 138.6km long course with 2957m of climbing. Located in the heart of Brazil's wine region, Bento Gonçalves offers fantastic cycling roads, beautiful views of vineyard-covered hills and excellent gastronomy and wines. Italian immigration has played a big role in shaping the architecture, cuisine, viticulture and landscapes, resulting in a region that looks and feels like Italy with a Brazilian twist. The rolling hills serve up lots of cycling fun on twisty roads making your trip to Bento Goncalves a fantastic cycling vacation.
"After a hiatus of 4 years, we're excited to finally be back in Brazil," says GFNY President Lidia Fluhme. "And we couldn't ask for a better host than Bento Gonçalves which has been extremely welcoming and supportive. Our Brazilian GFNY riders will see that the wait was well worth it."
Race week activities will take place in Fundaparque Rio Grande do Sul. On Sunday, riders will tackle a spectacular course with rolling hills along the breathtaking wine region. The race winners will win an entry to the GFNY World Championship in May in New York City. And all finishers will get the coveted GFNY finisher medal.
Website: bento.gfny.com
About GFNY Global Endurance Sports Series
GFNY Global Endurance Sports Series is a sports event company with three decades of experience in racing, planning and organising events. The global endurance sports brand hosts multiple events throughout the year around the world on five continents.
Working with partners around the world to deliver a first-class experience, GFNY Global Endurance Sports Series puts their athletes first.
Cycling
30 plus events around the world. View the latest calendar here
Riders get to BE A PRO FOR A DAY ® by competing against others, themselves and the clock in a personal endurance challenge.
Top 10% (20% at regional championships) of finishers in each age group qualify for the Racer Corral at every GFNY World event.
GFNY World Championship NYC
The 11th annual GFNY World Championship New York will be held on May 21, 2023. The race features the world's most international peloton with riders from over 90 countries. Athletes take on a challenging 100-mile route from NYC to Bear Mountain to Fort Lee to compete against each other, the clock and themselves in a personal endurance challenge.
The official GFNY website is: www.gfny.com.
Further Material for Media Use
Official GFNY Bento Gonçalves video: here
GFNY Press Images: here
GFNY Results: here
GFNY World calendar graphic: here
Previous GFNY press releases: here
Media Contact
Gran Fondo New York Inc.
Uli Fluhme, uli@gfny.com
Caroline Lindsay, caroline@gfny.com