Attaquer Launches ATQ Out of Office Project
April 6, 2023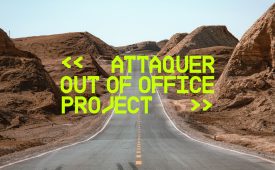 SYDNEY, Australia /ENDURANCE SPORTSWIRE/ Inspired by the incredible things its community gets up to wearing its kit, Attaquer is announcing the ATQ Out Of Office Project. They are putting out a tender to pitch for anyone who wants to document a crazy ride, big adventure, or unique creative concept. If you've got a big trip, a wild adventure, or something completely different on the boil – and you have the chops to capture and tell your story – Attaquer could help you make it happen and share it with the world. The idea that Attaquer thinks their community most wants to see come to life will be awarded a $5,000+ package worth of kit and capital, so you can get after your big idea and tell your story.
"Here at Attaquer we live to get out and hit the road but there's almost no greater satisfaction than seeing the incredible things our community gets up to in our kit," offers Attaquer's Ben Juzwin. "Whether it's conquering a tough climb, riding across a desert or something we'd never have dreamt up ourselves. And so, inspired by this, comes the ATQ Out of Office Project."
Beginning April 5, 2023 entrants are encouraged to submit a 300-word (max) pitch, which includes, a creative concept, explaining their chosen medium for the ride or adventure they'll be undertaking, as well as the where/when/who and why it embodies the spirit of Attaquer. The pitches will be reviewed by the Attaquer creative team and the winner will be awarded the prize package for them to put towards realizing their idea.
Landing Page/Submission form:
www.attaquercycling.com/pages/ooo-project-pitch
Key Dates:
Campaign launches globally on the 5th April at 7am AEST.
Pitch window closes on the 3rd of May at midnight AEST.