ATRA to lead Discussion at TRE on the Future of Trail Running
November 18, 2021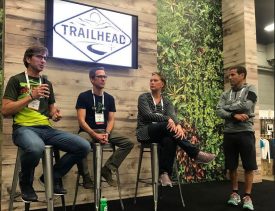 Jamil Coury and Doug Mayer to join Adam W. Chase on Panel
/ENDURANCE SPORTSWIRE/ – The Running Event (TRE), is the premier conference and trade show for running specialty retailers and includes networking opportunities, educational content, and offers sneak peaks to attendees of new products coming on the market. Attendees include run specialty store owners and managers, race directors, brands, and organizations.  The American Trail Running Association (ATRA) will have a booth presence, lead a panel discussion, and will also be publishing an article on the TRE experience following the show on Trail News.
Diversified Communications, the organizers of TRE, added a component in 2018 called Trailhead with content geared specifically to trail running.  ATRA has been part of this initiative since the inception and will be again in 2021. The show is hosted in Austin, Texas and runs this year from November 30-December 2, with the Trailhead content showcased on Thursday, December 2. Find a complete schedule of presentations is here.
ATRA's presentation, to be moderated by ATRA president Adam W. Chase, will kick off Trailhead Thursday, on December 2, at 10:00 a.m. Entitled, "Grass Roots or Carbon Fiber: Where is Trail Running Headed?"  The panelists will discuss the future of US and global trail running and whether trends, like UTMB's integration with Ironman and Fleet Feet's acquisition of JackRabbit, will have any impact on the trail community. The sport of trail running is growing approximately 15% per year and it has always resisted corporate conformity but perhaps those new to community will welcome the safety of well-organized, standardized events and uniformity? Keep trail running weird? This panel will talk to those points and answer questions from the audience in what promises to be a lively discussion.
Joining Chase will be Doug Mayer and Jamil Coury. Mayer is the founder of Run the Alps, a contributing editor at Trail Runner magazine, and co-author of the new book, Trail Running Illustrated. He is also the producer of the Trail Runner Nation podcast, and is partners in the trail running clothing brand, Insane Inside. He lives in Chamonix, France, with his labradoodle, Izzy.
Coury started running ultramarathons in 2005 and instantly fell in love with the sport. He took over the direction of the Javelina Jundred in 2008, and started Aravaipa Running in 2009. He has been competing in ultras around the world since and is currently on a quest to finish 5 loops at the Barkley Marathons.
Said Chase, "I'm excited to learn what Jamil and Doug have to say about where our sport is headed, especially in the context of recent growth and the emerging consolidation of race organizing bodies and specialty retailers."
To learn more about TRE and to register, visit this link.