Atlanta Chosen by The National Cycling League to Host Inaugural Series Race
June 29, 2023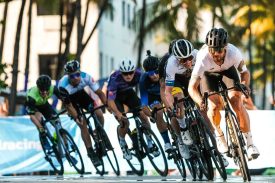 Professional Cyclists From 10 Teams Will Compete on Course Around Porsche Experience Center Atlanta on August 20, 2023.
ATLANTA /ENDURANCE SPORTSWIRE/ – The National Cycling League (NCL), the first-of-its-kind professional cycling league, has announced that the third race of its inaugural NCL Cup race series is set for Sunday, August 20 at 12 p.m. in Atlanta.
Ten co-ed teams of professional cyclists – including multiple Olympians, former Tour de France competitors, and national champions – will compete in the criterium-style (or lapped-style) race circuit at the world-renowned Porsche Experience Center test track. The course features a technical, rolling 1.2-mile circuit on the south track that is sure to produce nail-biting race action.
With more than 50 million cyclists in the U.S., the NCL's mission is to grow the passion and excitement for cycling among the next generation of fans by introducing them to the fast-paced action and excitement of criterium racing.
"Atlanta is arguably one of the country's great cycling metropolitan areas with projects like the BeltLine, the Silver Comet trail system and a wide array of neighboring mountain-biking paths," said Andrea Pagnanelli, NCL CEO. "As such, the city was a natural destination for our inaugural series set."
NCL races are sanctioned by USA Cycling and feature an innovative competition format in which men and women compete on the same team, on the same course, in a way that respects their differences yet weighs their performances and values their contributions equally. Fans also have access to real-time data and scoring through the NCL's scoreboard, a first in professional criterium racing.
In addition to being the first gender-equal professional sports league in the country, NCL is also the first majority women- and minority-owned league. Notable investors include Miami Dolphins Cornerback Jalen Ramsey, Los Angeles Chargers Safety Derwin James, Titans Safety Kevin Byard, FOX Sports' Emmanuel Acho, NBA Former Executive Director Michele Roberts, and others.
Proceeds of the racing event will benefit Bearings Bike Works, a nonprofit that utilizes bikes to help youth in Southwest Atlanta develop the skills necessary to successfully transition into adulthood and the workforce.
This event will be unique and exclusive in nature, as the only way to access it will be through VIP Hospitality. VIP Hospitality tickets are available for purchase now and include all-inclusive food, beer, wine and non-alcoholic beverages. For more information, visit https://nclracing.ticketsocket.com/event/ncl-cup-atlanta.
For media credentials and inquiries, please contact Claire Angelle at claire@angelleconsulting.com.
About National Cycling League
Founded in 2022, the National Cycling League (NCL) is revolutionizing professional cycling into a world-class spectator sport. The 2023 NCL Cup is a series of four professional criterium races in iconic cities across the United States: Miami Beach, Denver, Atlanta and Washington, D.C. For more information, visit nclracing.com.
###