Athlinks Survey indicates that running events will see a resurgence in 2023.
December 16, 2022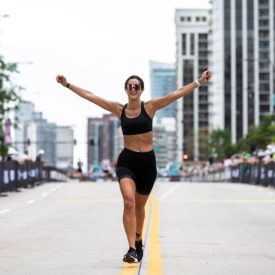 [EVANSVILLE, IN] /ENDURANCE SPORTSWIRE/ – Athlinks, the largest athletic race results database in the world, recently surveyed an audience sampling of over 400,000 athletes based in the United States to identify athletes' post-pandemic habits and gain a better understanding of why so many still have not returned to racing.
The survey results showed several reasons for lackluster event participation in 2022, ranging from athlete safety concerns to simply being temporarily out of shape. That said, we seem to be reaching a turning point. Over 45% of respondents who haven't yet returned to racing post-pandemic indicated that they are either registered or plan to register for their first race back within the next 12 months. Athletes also indicated that social running remains relevant and that networks of friends and family are the most likely source of finding their next race.
Athlinks Product Manager, Nick Wiegand, stated that "We're planning to see event numbers close to that of 2019 once again, and we can't wait – people are just ready to race!"
A further indicator of this pattern was demonstrated on Thanksgiving, the biggest day in the US annually for racing. Mike Milici, President of ChronoTrack (Athlinks' sister company) stated that "on Thanksgiving 2022 our platforms saw the strongest overall racing volume since pre-pandemic." ChronoTrack offers Timing, scoring, registration, and results solutions to some of the biggest events in the world, including the New York Marathon.
Access the full survey results: https://go.chronotrack.com/athlinks-state-of-the-industry-2022
Athlinks is the largest results database that makes finding, claiming, and sharing your results easy. If you've crossed a finish line in the last 10 years, you'll likely find your results at www.athlinks.com.
ChronoTrack provides best in class technology solutions that vertically integrate data across all stages of a race, from registration to celebration, for a seamless experience that delights both athletes and event professionals.
CONTACT NAME: Sharilynn Brown
ORGANIZATION NAME: Athlinks/ChronoTrack