Ascent Protein Releases Limited-Time-Only Blueberry Raspberry Pre-Workout Flavor
June 22, 2021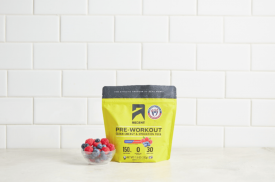 DENVER, COLORADO – June 22, 2021 – This week, Ascent Protein announced a limited-time only release of their Pre-Workout product in Blueberry Raspberry. It will be sold for a limited time on Ascentprotein.com and Amazon starting June 22nd. The limited-time release of Blueberry Raspberry Pre-Workout joins a lineup of delicious flavors including Orange Mango and Raspberry Lemonade.
Ascent's Pre-Workout offers a clean way to boost energy and hydration before a workout, and delivers on Ascent's promise to naturally improve athletic performance with no artificial ingredients. Ascent's Pre-Workout formula has zero artificial ingredients and includes 150mg of caffeine and 250mg of electrolytes to boost hydration. The product is also Certified Gluten Free and Informed Sport Certified.
"As we kick off the summer, we wanted to keep things fresh for our customers with a new and delicious pre-workout flavor," said Kirsten Karlsson, Associate Director of Marketing at Ascent. "Our Blueberry Raspberry pre-workout is clean, refreshing and designed to give our consumers the extra edge in their training without anything artificial."
Since launching in 2016, Ascent has quickly become one of America's fastest growing sports nutrition companies with their line of clean products. Ascent Protein is trusted by some of the world's most dominant athletes, including All Pro running back, Christian McCaffrey, 2x CrossFit Games Champion, Katrin Davidsdottir, and Team USA Weightlifting athletes CJ Cummings & Jourdan Delacruz. Ascent is also the first-ever performance nutrition partner of USA Weightlifting.
Ascent is continually innovating, and in addition to their line of pre-workout products, Ascent offers Native Fuel® whey protein with 25g of clean protein and zero artificial ingredients. In 2020, Ascent introduced Recovery Water. Unlike many other thick and chalky protein beverages on the market, Ascent's Recovery Water is an easy-to-drink, water-based beverage with 20g of native whey protein and only 100 calories. Ascent looks forward to launching new product lines and flavors in 2021.
Media Samples available upon request.
Ascent Native Fuel® is the benchmark in protein purity and is The Official Sponsor of Hard Work®. Drawing from 30 years of experience making protein, Ascent only uses milk from trusted dairy farmers and filters the protein in its own facilities. Ascent uses zero artificial ingredients and avoids harmful steps such as "bleaching." Aligning with the admirable qualities in the athletes that Ascent serves — going that extra mile, completing an extra set and never backing down from a challenge – Ascent pushes for high-quality results, knowing they do not come without hard work. For more information, visit www.ascentprotein.com
###