Ascension Seton CapTex Tri Returns for Memorial Day 2023
May 26, 2023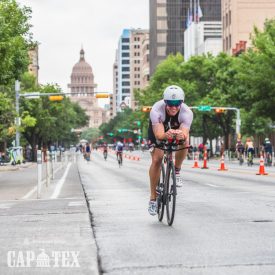 Austin's only downtown triathlon set to welcome over 2300 triathletes
AUSTIN,Texas, May, 2023/ENDURANCE SPORTSWIRE/ – The annual Ascension Seton CapTex Tri returns this year, where over 2300 triathletes from across 26 states and 4 countries will converge on Memorial Day weekend in the capital city. CapTex Tri features a swim course in Lady Bird Lake, a bike ride through downtown Austin, and a run course at the picturesque Auditorium Shores. In addition to multiple race distances on Memorial Day, May 29th, the event also includes a Health and Fitness Expo on May 28th at Palmer Events Center.
"We are thrilled to welcome back the annual CapTex Tri in downtown Austin, a one-of-a-kind event that seamlessly blends the scenic splendor of Lady Bird Lake with the electrifying thrill of a triathlon, " says Drew Hays, Director, Austin Sports Commission. "While stand up paddle boarders grace the lake every weekend, the CapTex Triathlon stands as the exclusive occasion for individuals to immerse themselves in its waters and partake in an unforgettable experience. It's a great way to start off the summer in Austin".
CapTex Tri offers different divisions and distances for triathletes of all abilities. Professional triathletes and elites can begin at the same time regardless of age, and age groupers are separated into five-year increments. In addition, CapTex Tri features Athena and Clydesdale categories. There are also aquabike and relay options for race day. The relay team can consist of two or three members, and the aquabike completes the swim and the bike only.
Event distances include:
Rookie triathlon – 300m swim, 12.3-mile bike, 2-mile run
Sprint triathlon – 750m swim, 12.3-mile bike, 5K run
Sprint aquabike – 750m swim, 12.3-mile bike
Olympic triathlon – 1500m swim, 24.3-mile bike, 10K run
Olympic aquabike – 1500m swim, 24.3-mile bike
"Ascension Seton is excited to celebrate Memorial Day at CapTex Tri", said Adam Bauman, Vice president of Oncology, Orthopedics, Sports & Rehabilitation Services at Ascension Seton. "Our partnership with Austin's premier triathlon aligns with our emphasis on family, health, wellness, and community. We know the determination it takes to complete endurance events, and our team is proud to support athletes on race day and beyond."
CapTex Tri celebrated its 30th anniversary last year with a sold out crowd. This year is on track to be the biggest on record. Participant registration can be found HERE. Volunteers are also welcomed and encouraged to sign up. Event weekend will kick off with the Health and Wellness Expo on May 28th. It is free and open to the public.
About High Five Events: Based in Austin, Texas, High Five Events is a community-centric company that has become one of the largest privately owned event production companies in the United States. Our staff has more than 100 years of combined experience organizing large events across different venue types in a variety of locations. High Five Events has been on the Inc. 5000 List of Fastest Growing Companies for 2020 (ranked 1853) and 2019 (2163).