Arthur Forissier, Sandra Mairhofer win XTERRA France
July 2, 2023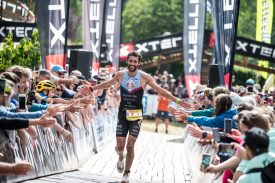 It's the ninth career XTERRA World Tour win for Forissier and the sixth for Mairhofer.
/ENDURANCE SPORTSWIRE/ – Arthur Forissier (FRA) and Sandra Mairhofer (ITA) captured the 16th annual XTERRA France off-road triathlon elite titles in Xonrupt on Sunday, July 2, 2023 with winning times of 3:03:53 and 3:26:16, respectively.
It's the ninth career XTERRA World Tour win for Forissier and the sixth for Mairhofer.
Today's full-distance race started with a 1.5K swim in Lac de Longemer, followed with a beautiful 40K bike through the Vosges mountains and into a magnificent bike park made of wooden ramps, and finished with a technical 10K trail run through the forests in northeastern France.
In an XTERRA first, elite starting positions and start times were based on Saturday's Enduro (aka Short Track) race results. Since Forissier and Alizée Paties won the swim-bike-run x 3 format Enduro race on Saturday, they were first to jump off the pier and into the 21.8 degree lake on Sunday.
XTERRA Europe GM, Doug Hall, explains…
"The full distance started with a unique twist with the start procedure being related to the finishing times of the XTERRA France Enduro. Enduro winners Alizee and Arthur would start on scratch, with all of the other elites starting in their finishing order with the time gap from from the previous day's racing determining the time they would start. Athletes eliminated or not selected for the Enduro started with a two minute deficit before they had even hit the water. This led to some extremely interesting racing and some athletes who we wouldn't normally see hit T1 in the lead changing the race dynamic completely, creating a good show in my opinion."
In the men's elite race Michele "The Shark" Bonacina (ITA) was first out of the water despite starting the race 60-seconds behind Forissier, but quickly pulled out of the race due to illness.
That left Forissier, the 2019 XTERRA France Champion, and Maxim Chané (FRA), the 2021 XTERRA France Champion, together at the front of the bike in pursuit of the prestigious home country crown.
The two Frenchman took turns up front on the bike until a late attack from Forissier on the last downhill earned him a 40-second lead going into the bike-to-run transition, a lead he would not relinquish.
"I'm proud of the entire weekend," said Forissier, who also won the XTERRA Belgium Short Track race last month in Namur. "I had a good performance yesterday, really pushed hard, and today was more a management issue. I was just on the limits, but very careful not to go into the red zone."
Chané, despite fighting a cold all week, pushed as hard as he could to hold on to second place in front of Sébastien Carabin (BEL) who posted the fastest bike split of the day.
"I came down today at the last moment, and by the time I heard wetsuits would be allowed it was too late, so it was a no wetsuit swim for me and my plan to kill Arther from the swim changed to just trying to stay on his feet," said Chané. "Still, it was a good battle. I was so focused on this race, it's a big crown, and you hear your name everywhere. Second is good, but I hope the next one is for me."
Carabin, as a result of being eliminated by the two-minute rule at yesterday's Enduro (after second swim), started the race a full two-minutes after Forissier but took four minutes out of the whole field on the bike to pull within one-minute of Chané at the line.
"One or two more climbs and maybe I could have caught Maxim, and without the penalty, who knows," said Carabin. "The rule is not good for me. It favors the strong swimmers, especially in yesterday's short track. Today, I had a good swim in the wetsuit, then pushed hard on the bike and I was going really fast on the technical sections."
Place – Name, NAT (Time)
1 – Arthur Forissier, FRA (3:03:53)
2 – Maxim Chane, FRA (3:06:48)
3 – Sébastien Carabin, BEL (3:07:22)
4 – Francois Vie, POR (3:11:58)
5 – Xavier Dafflon, SUI (3:12:28)
In the women's elite race Mairhofer led from wire-to-wire despite taking a 15-second deficit into the swim start after Saturday's qualification race. Mairhofer posted the fastest bike and run times and crossed the line with nearly 9 minutes to spare over the runner-up, Paties.
"Really loved the course, the roots, the climbing, the weather was nice, it was a great day," said Mairhofer. "My level is really improving right now, the training has been good and I'm feeling really comfortable on the bike. At the end of the first bike loop I had five minutes, and it was eight minutes after the bike ride so I was able to enjoy the run with all the people cheering my name, it was really special."
The battle for second was a little less one dimensional, with Emma Ducreux (FRA) reaching the swim-to-bike transition in second, followed by the reigning XTERRA World Champion Solenne Billouin (FRA), Diede Diederiks (DEN), and Paties in quick succession.
"That group would stay largely together for the first lap, until the last downhill where Paties put those bike skills to good use and created a small gap. She would hold the gap throughout the second lap and enter T2 in second place," said Hall. "Solenne and Diede traded places on the bike – with the Dutchwoman pushing the climbs super hard before losing time on the technical sections, and those two entered T2 almost side by side."
Once on the run, Paties hung on, but just barely as Diederiks posted the fastest run time of the day and came in third place just 20-second back.
"The qualification race yesterday was really tough for me, not my cup of tea, but I loved the long distance race today and the combination of the two events," said Diederiks, the 2023 World Triathlon Cross Duathlon Champion who finished runner-up at the XTERRA European Championship in 2021.
"I started with a delay of 1:45 seconds from the Enduro, but was just steady with the swim and hung in there on the bike so I could get to the run, that's where my part begins."
Place – Name, NAT (Time)
1 – Sandra Mairhofer, ITA (3:26:16)
2 – Alizée Paties, FRA (3:34:53)
3 – Diede Diederiks, NED (3:35:13)
4 – Solenne Billouin, FRA (3:39:48)
5 – Emma Ducreux, FRA (3:52:10)
XTERRA France was the 12th of 21 stops on the 2023 XTERRA EMEA Tour.
Up Next: XTERRA Lake Scanno, July 22.
All-Time XTERRA France Elite Champions
Year – Men's Champ / Women's Champ (Site)
2006 – Cedric Fleureton / Renata Bucher (Saint Raphael)
2008 – Nicolas Lebrun / Renata Bucher (Auron)
2008 – Nicolas Lebrun / Renata Bucher (Mondelieu)
2010 – Nicolas Lebrun / Marion Lorblanchet (Xonrupt)
2011 – Victor Del Corral / Renata Bucher (Xonrupt)
2012 – Asa Shaw / Helena Erbenova (Xonrupt)
2013 – Nicolas Lebrun / Helena Erbenova (Xonrupt)
2014 – Ruben Ruzafa / Kathrin Mueller (Xonrupt)
2015 – Ruben Ruzafa / Kathrin Mueller (Xonrupt)
2016 – Ruben Ruzafa / Lesley Paterson (Xonrupt)
2017 – Ruben Ruzafa / Laura Philipp (Xonrupt)
2018 – Ruben Ruzafa / Brigitta Poor (Xonrupt)
2019 – Arthur Forissier / Morgane Riou (Xonrupt)
2021 – Maxim Chané / Solenne Billouin (Xonrupt)
2022 – Felix Forissier / Marta Menditto (Xonrupt)
2023 – Arthur Forissier / Sandra Mairhofer (Xonrupt)
About XTERRA
X marks the unknown. TERRA is earth. United, we are XTERRA – a brand born to discover unknown territory. Since our inception in 1996, XTERRA has been inspiring off-road adventure by connecting people with nature through events with a fun, family vibe. We offer 13 off-road race options, from triathlon-to-trail running, for participants of all ages and skill levels in 47 countries worldwide. We have a global perspective, we aspire to protect where we play, and live the XTERRA lifestyle everyday, everywhere we roam. Join us off-road at xterraplanet.com.