Arena Games Triathlon Secures Huge Growth In 2023
June 8, 2023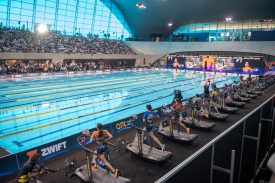 /ENDURANCE SPORTSWIRE/ – Arena Games Triathlon powered by Zwift nearly doubled its live broadcast audience during a stellar second season of Super League Triathlon's innovative esports World Championship Series.
The hybrid of real life and virtual racing has not only provided a new level of innovation in sport but proved hugely compelling to a new and younger generation of fans with a three-event 2023 Series in Montreal, Switzerland and London delivering massive growth.
Arena Games Triathlon, which is shortly set to feature in the Olympic Esports week in Singapore, also enjoyed significant growth on broadcast and digital platforms and a huge demand for tickets in its first full Series post-COVID restrictions.
In 2023 Arena Games Triathlon powered by Zwift saw:
A 48% increase in live audience on broadcast to 4 million (2022: 2.7 million)
Unique broadcast reach rise to 21.7 million (2022: 25.4 million)
Average audience per broadcast grow by 64%
25 million video views on digital channels (2022: 13 million)
95% of all tickets sold
Super League Triathlon CEO, Michael D'hulst, said: "We have seen a huge rise in the growth of Arena Games Triathlon with athletes, broadcasters and fans loving its unique format and data driven storytelling. This was the first year we have been able to operate a full Series without any impact from COVID restrictions and the results have been incredible.
"We remain committed to pushing the format for inclusion in the Olympics and our upcoming racing at the Olympic Esports week is testimony to the fact that this form of racing has traction and interest at the very highest level of sport."
Super League Triathlon Co-Founder, Leonid Boguslavsky, said: "It has always been a dream of mine to be part of creating a new sport, and I am proud of the success that is being shown in the innovative, technology driven new race format of Arena Games Triathlon. It is proof again that Super League Triathlon continues to drive the sport forward and will never stand still."
Australia's Sophie Linn and South Africa's Henri Schoeman were crowned Arena Games Triathlon World Champions in 2023, thanks to Super League's partnership with World Triathlon.