Archer Components Launches New Paddle Remote for D1x Trail System
March 2, 2022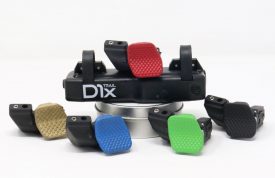 The latest electronic shifting remote brings more natural, ergonomic feel for flat-bar setups
Scotts Valley, California (March 2, 2022) /ENDURANCE SPORTSWIRE/ – Archer Components continues to build on its winning formula of developing electronic shifting for any mechanical derailleur with the release of the new Paddle Remote for its renowned D1x Trail e-shifting conversion kit. The new remote — which can be purchased individually or as a full package including the shift-drive unit — offers improved ergonomics for flat handlebar MTB bikes.
All Archer systems begin with the chainstay-mounted D1x shifter unit which pulls a standard shift cable to change gears on ANY rear derailleur. The handlebar-mounted remote unit sends shift commands to the shifter in the back. The new Paddle Remote is an updated flat-bar option for the D1x product line that already includes the original D1x Trail with Two-Button Remote and the recently launched MFR and DBR remotes for drop bar bikes.
"Our first, two-button remote worked well, but people are accustomed to paddle-type shifters on mountain bikes. It took a lot of work but we've developed a paddle remote that has great ergonomics and incorporates customer feedback like including on-bike micro-USB charging. We feel that the new Paddle Remote is the best option available for electronic shifting" says Devin Carlson, founder of Archer Components. "Our presale opened recently and folks are stoked on this new remote. We couldn't be happier with the reception we've gotten from the crew out testing on trails all over the West and we can't wait to get these out into the world."
The new Paddle Remote offers a wide range of functions including easy push-button shifting; individual gear micro-adjustments for pinpoint accuracy; Get Me Home Gear programming; multi-gear shifts; and more.
Another unique feature is how Archer has been able to mirror its technology to develop a left-hand version, which allows for huge possibilities for athletes or riders with disabilities. Archer has invested a lot of time and effort in developing open systems that users can tweak and adapt because it encourages other uses that can help evolve their usefulness. Adaptive athletes, riders with arthritis, and non-traditional bikes are key benefactors of their systems.
The full Archer Paddle Remote System is available in five colors: Big Sur Blue, Mars Red, Graphite, Black, Cali Green, and Gold. Packages start at $429 with standard batteries, but the 50% faster-shifting Sprint Battery kit runs $449. Anyone who already has a D1x Trail shifter installed can easily upgrade to the Paddle Remote System for $199. All versions of the Paddle Remote will be available March.
Link to high res images
About Archer Components
Archer Components is a small team of riders based in California who design, build, and test intuitive electronic components for every rider no matter what they ride. Their electronic shifting systems can be easily retrofitted to any mechanical drivetrain, so all riders can experience high-performance wireless shifting at a far lower cost. Archer Components: Shift Everything.